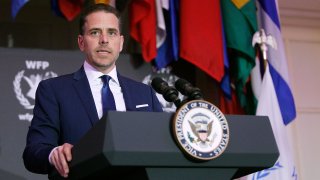 The complaints from President Donald Trump and his allies have been growing louder as the election approaches: Why isn't the mainstream media covering the Hunter Biden laptop story?
Trump and his allies say there is evidence of corruption in emails and documents allegedly found on a laptop belonging to Democrat Joe Biden's son. They say those and other documents show that Hunter Biden used his father's influence to enrich himself through business deals in Ukraine and China, and that his father not only facilitated that, but may have benefited financially.
But the Wall Street Journal and Fox News — among the only news organizations that have been given access to key documents — found that the emails and other records don't make that case. Leaving aside the many questions about their provenance, the materials offered no evidence that Joe Biden played any role in his son's dealings in China, let alone profited from them, both news organizations concluded.
For more on this story, go to NBC News.