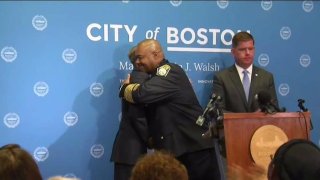 Actor and model Hopper Penn has been released from jail after he and actress Uma Von Wittkamp were arrested on drug charges earlier this week in Nebraska.
Here are some facts about the couple and their arrest:
A FAMOUS FAMILY
Penn, 24, is the son of Sean Penn, the Academy Award-winning actor, filmmaker and political activist known for his roles in "Fast Times at Ridgemont High," ''Mystic River" and "Milk." His mother is Robin Wright, an actress and director known for her work in the Netflix drama "House of Cards" and movies including "Wonder Woman" and "The Princess Bride."
Named after Dennis Hopper and Jack Nicolson, Hopper Jack Penn was born in Los Angeles but was largely raised in Ross, a small, exclusive town outside of San Francisco. He and his mother moved back to Los Angeles around the time Wright filed for divorce in 2009.
He's also the nephew of singer-songwriter Michael Penn and the late actor Chris Penn. His sister, Dylan Frances, is a model and actress.
Hopper Penn has gained some fame of his own. He acted in the film "War Machine" with Brad Pitt, and models eyewear for Fendi, an Italian luxury fashion house. But he has shied from the label "actor," noting his regular job at a Los Angeles pizza restaurant.
Von Wittkamp is less well-known, but played a role in the 2015 film short "Endings, Inc."
STRUGGLES WITH ADDICTION
Hopper Penn told the Evening Standard last year that he fell in with a "bad crowd" during his parents' divorce, which was finalized in 2010. His spiral apparently began a month after he moved to Los Angeles, when he was badly injured in a skateboarding accident and had to undergo surgery for bleeding on the brain.
Penn has since admitted to using a variety of drugs, including methamphetamine, but said he sought treatment.
"I went to rehab because I woke up in (the) hospital and my dad said, 'Rehab? Or bus bench?'" he said in the Evening Standard interview. "I was like, 'I'll take the bed.'"
A representative for the agency that represents Hopper Penn did not have any immediate comment.
THE ARREST
Hopper Penn was arrested Wednesday afternoon with Von Wittkamp, his 26-year-old girlfriend, after a Nebraska State Patrol trooper stopped them on westbound Interstate 80 for allegedly failing to signal. A Hamilton County sheriff's dispatcher said Penn and Von Wittkamp were released Thursday after posting $25,000 bond apiece.
Authorities said the trooper detected "drug activity" in the 1992 Volvo and searched the car. Inside, they said they found 14 grams of marijuana, four amphetamine pills and 3 grams of psilocybin, a psychedelic drug commonly known as mushrooms.
Penn was charged with possession of a controlled substance (psilocybin) and possession of marijuana. Von Wittkamp was charged with possession of a controlled substance (amphetamine) and possession of a controlled substance (psilocybin).
Possession of a controlled substance is a felony in Nebraska, punishable by up to two years in prison, a year of post-release supervision and a $10,000 fine. Because Penn allegedly had one ounce or less of marijuana and it's his first offense in Nebraska, the marijuana charge is only punishable by a citation, a $300 fine and a possible drug-treatment course.
Deputy Hamilton County Attorney Benjamin Dennis said he didn't have any information about the case beyond what was in court filings.
Copyright AP - Associated Press