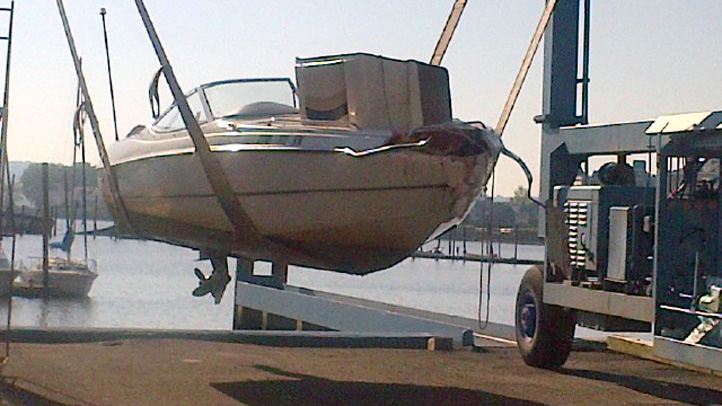 The operator of a boat carrying members of a wedding party that crashed into a barge on the Hudson River Friday night, killing a bride and her fiance's best man while injuring three others, including the groom, has been arrested on suspicion of intoxication.
A woman's body was found by rescuers off the shore of Piermont, N.Y. Saturday that is believed to be the body of Lindsey Stewart, 30. Her fiance, Brian Bond, 36, was also injured in the crash near the Tappan Zee Bridge. They were set to marry in two weeks.
Authorities said the 35-year-old driver, described as an acquaintance of the couple, is charged with first-degree vehicular manslaughter and second-degree vehicular assault. Police say there is probable cause that the he was intoxicated.
The woman's body was found near the bridge, Rockland County Undersheriff Bob Van Cura said Saturday afternoon.
The best man, Mark Lennon, remains missing.
Stewart's stepfather, Walter Kosik, said the bride and groom had known each other since they were 10 years old.
The Coast Guard said the six boaters were on a 21-foot Stingray near Piermont when it hit the barge at around 10:40 p.m.
Earlier as rescuers searched for the missing bride and best man, relatives held out hope.
"We're praying for a miracle," said Carol Stewart, the bride's mother.
The four injured were taken to the hospital and officials described their injuries as severe, including head trauma and broken bones. Van Cura said they are expected to recover.
Kosik said Bond, the groom, was unable to speak because of the severity of his injuries.
Investigators say that while it would have been dark in the area at the time of the crash, the barge was lit up. The New York State Thruway Authority said all barge lighting was found to be operational Saturday morning.
It was unclear how fast the boat was going.