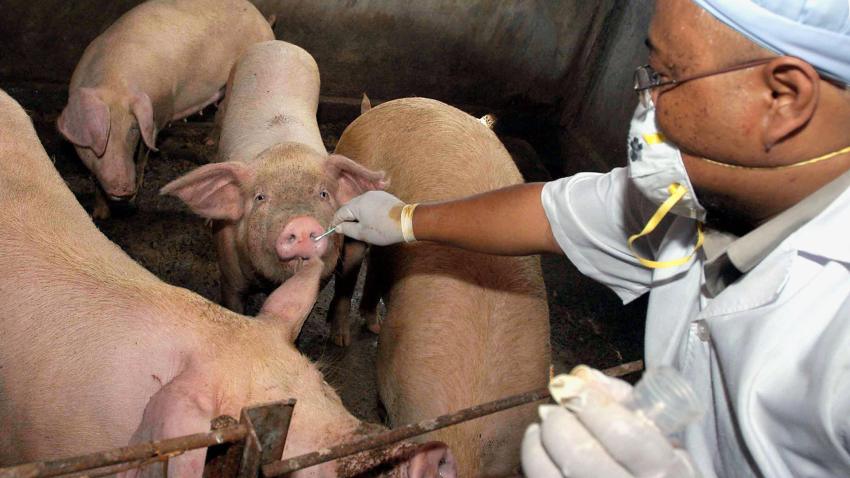 A Chicago resident became the first person in Illinois to die of swine flu, the Illinois Department of Public Health reported Monday.
It was the nation's 12th confirmed death from the illness.
Department of Public Health Director Dr. Damon T. Arnold said the Chicago-area victim suffered from underlying medical conditions along with having H1N1 influenza. The department did not release any other details citing the family's wishes for privacy.
"With as many cases of H1N1 influenza that have been reported in Illinois, we have been concerned that there would be fatalities," Arnold said.
Reaction across the country has been swift since the flu was first reported last month.
Students from colleges to kindergartens were told not to shake hands to avoid contracting the disease, while some Roman Catholic priests stopped distributing communion wine as a precaution. Several schools were closed, sidelining hundreds of students, after probable cases were reported.
But many of those precautions stopped after health officials said the flu didn't appear to be as virulent as first feared, though health officials say people at high risk should remain vigilant.
To date, the Centers for Disease Control and Prevention has reported more than 6,700 cases in the U.S. The CDC reports 10 deaths but New York health officials reported another death over the weekend.
The World Health Organization said there have been more than 12,500 swine flu cases worldwide as of Monday, with more than half of them in the U.S. Of at least 91 deaths, 80 were in Mexico, where the outbreak was identified in April. Authorities in Mexico later announced three more deaths Monday, as Canada said it had another death connected with the illness.
Symptoms of H1N1 flu include fever, cough, sore throat, body aches, headache, chills and fatigue. Some people have reported diarrhea and vomiting as well.
Copyright AP - Associated Press