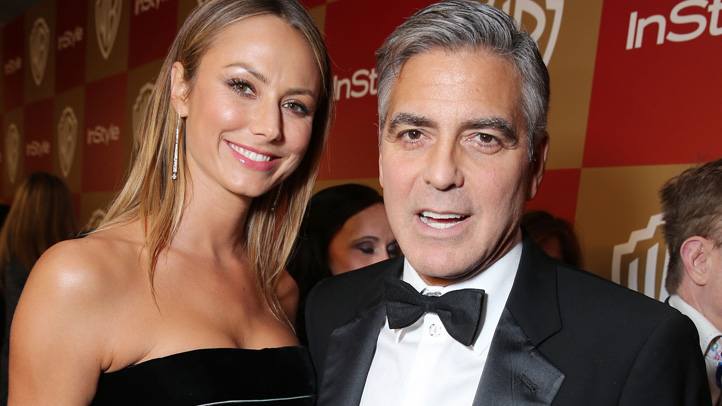 George Clooney and Stacy Keibler may have split, but we're happy to report that there's nothing ugly behind the breakup.
"It happened a little while ago," a source close to the couple tells me. "Stacy decided to end things."
Contrary to speculation that Keibler, 33, bailed because she wanted to get married and have kids, the source insists settling down with the 52-year-old Oscar winner was not a factor.
"Stacy has always said she doesn't know if she'll get married one day or have kids," the source said.
PHOTOS: More big celebrity splits
She has spoken about her future plans on that very topic to us in the past.
"That is not on my radar at all," Keibler told us in October about wanting to get hitched. "I'm definitely the girl who doesn't talk about that kind of stuff. I'm not really interested in thinking about marriage or kids at all."
Sadly, Keibler realized that their schedules were too hard on the relationship.
"George is going to be out of the country for awhile and Stacy has her new show and the food line she's developing here," the source said. "It's a completely friendly breakup. There was nothing ugly going on."
VIDEO: Watch Stacy get grilled by Joan Rivers on Fashion Police
The source said Keibler wants to try being single for a while: "She's not looking for a boyfriend again right now."
Reps for Keibler and Clooney have not commented on the breakup.
The couple was last seen together in Berlin, where Clooney has been shooting The Monuments Men, the real-life story of a group of art historians and museum curators who raced to save artwork stolen by the Nazis before the works were lost or destroyed. The two had dinner with Clooney's costar Matt Damon and coproducer Grant Heslov.
Clooney spent the Fourth of July holiday with friends at his home in Lake Como, Italy. Keibler attended a star-studded DeLeon Tequila party in Malibu thrown by Madonna's manager Guy Oseary.
PHOTOS: In much lighter news, check out George's many wacky faces
Copyright E! Online