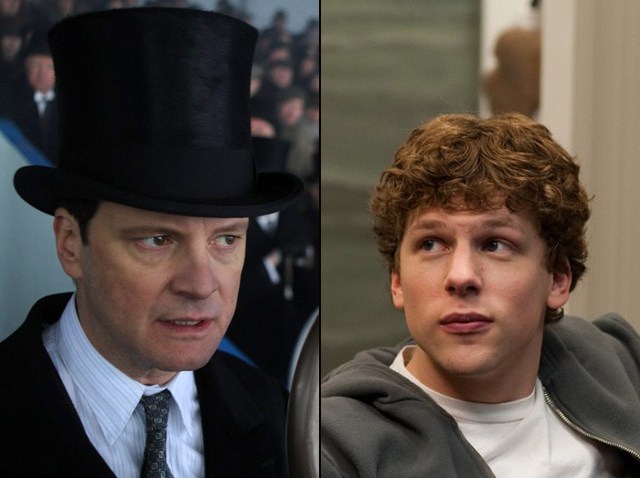 Oscar week is finally upon us, bringing with it a sense of drama that many feared would be totally absent from the proceedings.
Last year's awards ceremony pitted the scrappy indie war drama "The Hurt Locker" against the big-budget spectacle of "Avatar" in a battle for Best Picture. The two films were different in every way: budgets, box office, 2D vs. 3D… And in a fascinating subplot, the films' directors, Kathryn Bigelow and James Cameron, were facing off for Best Director 19 years after they'd been divorced.

Yes, Oscar night could be a little spicier if Tom Hooper and David Fincher had been married ages ago, but at least there's some suspense.

As recently as December, it appeared that this year's race was over, with the "The Social Network" patiently awaiting its coronation. But in January, "The King's Speech" earned Tom Hooper the top prize from the Directors Guild, and a week later the film took Best Picture from the Producers Guild and suddenly, the frontrunner status that had been enjoyed by the "The Social Network" had suddenly evaporated, despite TSN's David Fincher taking Best Director on Hooper's home turf at the BAFTA Awards.
There still exists of course the possibility, albeit a huge long shot, that the Academy at some point since announcing the nominations realized they'd made a grave error in overlooking Christopher Nolan in the Best Director category, and names "Inception" Best Picture.

Say what you will about the year's other movies, no filmmaker put more work into creating a new world than Nolan. "Inception" was a spectacle in the very best Hollywood tradition; the kind of film that was stunning to look at, made your brain hurt and had you talking about it for days—weeks, even.

If "Inception" somehow does win Best Picture, it will be thanks, appropriately, to the 10-nominee system that was instituted in response to the outrage over Nolan's "The Dark Knight" being snubbed two years ago. What is it that the Academy hates about this man?

The real wild card awaiting us on Sunday night, however, is Banksy, the world famous street artist whose film, "Exit Through the Gift Shop," has been nominated for Best Documentary. It's an unusually strong field this year, but Banksy has a very real chance of winning. But Banksy's never shown his face in public and on the rare occasion when he does make appearances he's historically done so sporting a hooded sweatshirt and a monkey mask.

"We suggested to them that it might be a good idea that if he did win, one of them would accept in his place, said the Academy's executive director, Jaimie D'Cruz. "That it would not be dignified for the Academy to have somebody come up wearing a monkey's head."

Dignified? Maybe not. Wildly entertaining? You bet.