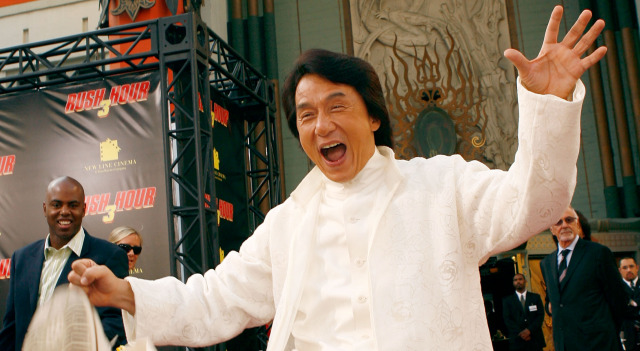 It's amazing that someone as nimble as Jackie Chan could be so clumsy as to stick his foot in his mouth.
The action star's comments suggesting that the Chinese people need to be controlled are a roundhouse kick at his fans in China – and around the world.
Chan reportedly told a group of business leaders in the southern Chinese province of Hainan that a free society may not work on the mainland. "I'm not sure if it's good to have freedom or not," he said Saturday. "I'm gradually beginning to feel that we Chinese need to be controlled. If we're not being controlled, we'll just do what we want."
Freedoms in Taiwan and his native Hong Kong made those societies "chaotic," Chan added.
Maybe Chan was just playing to his audience. But the comments still seem shocking from an international superstar who spoke out 20 years ago against the deadly pro-democracy crackdown in Tiananmen Square.
His words also are surprising from someone who has greatly benefitted from freedom and capitalism, becoming a major movie star in Hong Kong, Hollywood and beyond.
Chan's comments already have prompted a public backlash in Hong Kong and Taiwan, and likely won't play well in the U.S. and elsewhere.
The flap has been ignored by press in mainland China, where Chan is a major movie draw. But word almost certainly is spreading: up to 300 million Chinese reportedly have Internet access.
Chan's popularity has been propelled largely by the character he plays in many of his flicks: he's a likable underdog who foils the bad guys with quick-thinking, down-to-earth humor, and out-of-this-world acrobatic and martial arts skills. His comments, though, risk making him seem -- at best -- out of touch with his worldwide audience.
He's slated to hit Beijing next month for what's being billed as the Jackie Chan Fans Friendship Tour '09. Let's see what kind of reception Chan gets from the "friends" he's not so sure can handle freedom.
Hester is founding director of the award-winning, multi-media NYCity News Service at the City University of New York Graduate School of Journalism. He is the former City Editor of the New York Daily News, where he started as a reporter in 1992.
Copyright FREEL - NBC Local Media