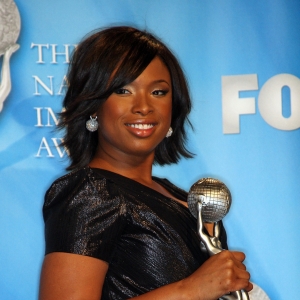 As an Oscar and Grammy winner, Jennifer Hudson has a superstar career in the worlds of film and music – but she told Ellen DeGeneres on Thursday on "The Ellen DeGeneres Show" that she had a fallback during her high school days.
"My second choice was to be a tattoo artist because I also draw," she said, adding that she doesn't have any herself.
VIEW THE PHOTOS: Grammy Awards Red Carpet 2009
But before making it big on "American Idol," the singer-actress was working at Burger King.
"When I was 17 years old, I worked at Burger King and I found that I was making more money singing one show," she said. "$75 at the time. I thought it was a lot of money so I decided, 'I'm quitting this Burger King,' I'm going to make my living using my talents and gifts."
VIEW THE PHOTOS: Jennifer Hudson
When she's not working, she said she and fiance David Otunga act like big kids.
"We like to ride bikes," she said. "One thing I like to do is I put my dog in her little basket and put her on my back and then we ride the bike to the dog park."
Related Content from AccessHollywood.com:
VIEW THE PHOTOS: Ellen DeGeneres
PLAY IT NOW: Access Search Engine: Jennifer Hudson Gets Playful (Feb. 10, 2009)
PLAY IT NOW: 2009 Grammys: Leona Lewis Talks Jennifer Hudson

MORE ACCESS ON THESE TOPICS: Jennifer Hudson - TV One - Music - Celebrities - Ellen DeGeneres

Copyright NBCAH - Access Hollywood