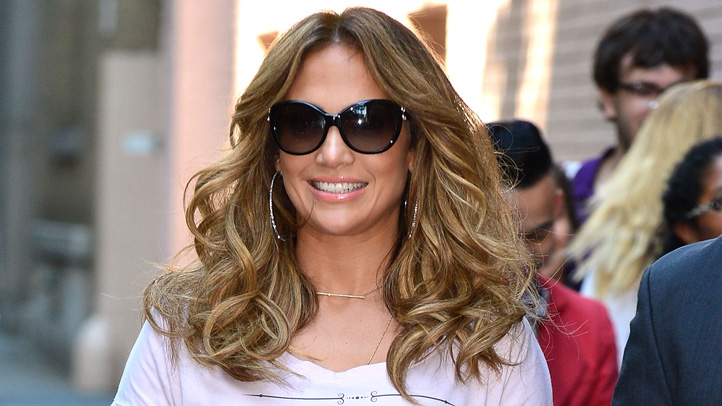 Jennifer Lopez can rest easy now that a $10 million lawsuit filed against her has been dismissed.
The lawsuit came about two years ago when Lopez's attorneys sent cease-and-desist letters to her former hubby Ojani Noa, his business partner Ed Meyer and producer Claudia Vazquez while they were working on a film for Telemundo called I Owe JLo.
The film was set to tell details about Lopez's failed marriage to Noa, but when the "Dance Again" singer allegedly interfered with the flick's production, causing it to be "unmarketable," according to Vazquez, the producer sued her for $10 million for tortious interference.
Jennifer Lopez's fashion face-off...with herself
While Vazquez claimed the film would be a "comedic parody of Noa's life crafted almost entirely from the material that is already in the public domain," Lopez said the movie would reveal information that could be damaging to her career.
Prior to Vazquez's lawsuit, Lopez sued Noa and Meyer for $10 million for breach of contract, violation of publicity rights, invasion of privacy, and more, after Vazquez entered into a production agreement with Meyer to produce a film about Noa's life, which would've included details about his marriage to Lopez.
As a result of that suit, the actress was able to obtain an injunction to stop production on a film called, How I Married Jennifer Lopez: The JLO and Ojani Noa Story, which Noa and Meyer were working on.
Although Vazquez was named in the cease-and-desist letters Lopez sent to stop that film, she was not included in the aforementioned lawsuit against Noa and Meyer.
Jennifer Lopez sues former chauffeur for $20 million
Vazquez was working on a different project--I Owe JLo--at the time, and turned around and filed suit against Lopez when the film came to a standstill in light of Lopez's threats.
Lopez tried to shut down Vazquez's lawsuit at the time with an anti-SLAPP motion, but while a judge agreed Vazquez's claims arose from constitutionally protected free speech, a trial court said Vazquez still had chance of winning the case.
Why?
Because, according to the court, Vazquez may have been able to approve that the injunction did not involve her and Lopez's actions did cause the movie to not get made.
Did Prince Harry party with Jennifer Lopez in Vegas?
Lopez still appealed that ruling, however, and Monday she won.
The appellate court determined Vazquez could not base her case on Lopez's cease-and-desist letter because it is a "privileged legal communication that can't be used in court."
We guess that (finally) settles that.
Copyright E! Online