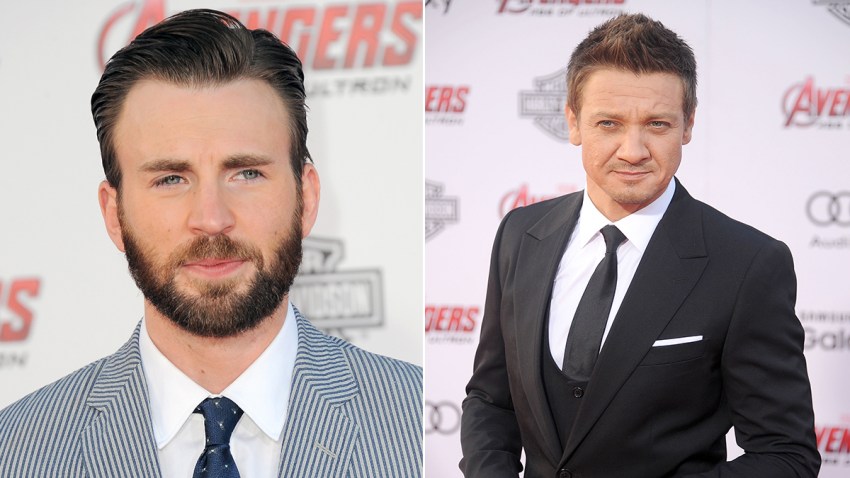 Jeremy Renner and Chris Evans issued statements Thursday regarding comments they made about Scarlett Johannson's "Avengers" character Black Widow.
Hawkeye and Captain America made a serious faux pas when they referred to Black Widow, as a "slut" and a "whore" during an interview with Digital Spy. When the female interviewer asked them about Widow's potential relationship with either one of their characters, both responded in a less-than-friendly way.
"She's a slut," said Renner, which immediately elicited a guffaw from Evans.
"I was going to say something along that line...A complete whore," Evans added. Renner also quipped that "she has a prosthetic leg anyway."
E! News has obtained statements issued by Renner and Evans regarding their comments: "Yesterday we were asked about the rumors that Black Widow wanted to be in a relationship with both Hawkeye and Captain America," Evans said in the statement. "We answered in a very juvenile and offensive way that rightfully angered some fans. I regret it and sincerely apologize."
"I am sorry that this tasteless joke about a fictional character offended anyone," Renner also said in a statement. "It was not meant to be serious in any way. Just poking fun during an exhausting and tedious press tour."
The Internet was quick to criticize the actors following their initial outbursts, slamming their remarks as misogynistic on social media. One user commented on the video, "It's sad but I really didn't expect them to respect women, but to make fun of someone with a disability.... that's just wrong, no matter if it was a joke.... It's a really mean thing to do that those people most likely have to deal with on a daily bases so is it really necessary to have to hear it from someone they might admire?"
WATCH: ScarJo jokes about her "filthy" "Avengers" co-stars
Another user wrote, "If sexual promiscuity is truly immoral, by consistency and logic, men who are promiscuous should be hated as well. You cannot have the double standard. You can't bash promiscuous women without doing the same to men. It is hypocritical and inconsistent."
Some users noted that the two actors were "obviously" joking. "Those were one-off jokes from the guys in response to a direct question from their (female!) interviewer, and she wasn't even fazed," another posted.
The "Avengers" press tour seems to be experiencing some hiccups, as Robert Downey Jr. stormed out of an interview after the journalist started asking personal questions about his "dark periods."
"Avengers: Age of Ultron" hits theaters May 1.
Copyright E! Online