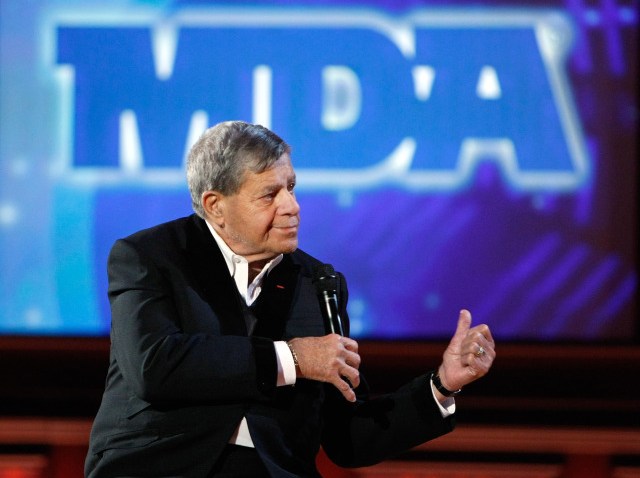 Despite the struggling economy, the Jerry Lewis MDA Telethon was able to raise $58.9 million, officials say. The totals were down from $60.5 million last year and a record $65 million in 2008.
"I think it ($58.9 million) is a huge amount for a tough economy," said telethon co-host Jann Carl. "This is what brings tears to our eyes. It shows the heart of America. We're terribly humbled and so grateful."
The 45th annual telethon was broadcast from the South Point Hotel in Las Vegas and reached some 40 million viewers through 170 television stations, according to the MDA website.
"I'm heartened by the unique ability of Americans to help others in need, when they themselves are likely struggling financially," said Lewis, national chairman of the Tucson, Ariz.-based MDA.
Performers Barry Manilow, Michael Feinstein, Maureen McGovern, Charo, Carrot Top and Norm Crosby took the stage for the 21½-hour event.
For the first time in the event's history, a child — MDA National Goodwill Ambassador Abbey Umali, 11, of Redlands, Calif. — opened the telethon. She sang two songs, including "Ordinary Miracle."
Lewis said the funds will allow the MDA to continue funding worldwide research to find treatments and cures for muscular dystrophy, ALS and related diseases.
"People see the progress MDA is making for children and adults living with muscle diseases," he said. "I'm truly grateful for their caring enough to brighten the future for 'my kids.'"
Lewis, 84, ended the telethon with the traditional singing of "You'll Never Walk Alone."
Copyright AP - Associated Press