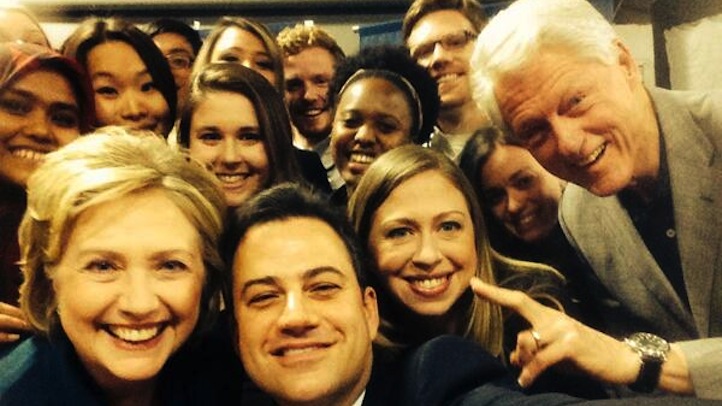 Ellen DeGeneres may have some competition in the selfie department.
This is no Oscar nominee (and Lupita Nyong'o's brother)-filled snap mind you, but Jimmy Kimmel's presidential selfie is pretty epic all the same.
"@TheEllenShow- No Brad Cooper but 3 Clintons &a Kimmel @BillClinton @HillaryClinton @ChelseaClinton #selfie," the late night host tweeted Saturday, along with a shot that showed himself posing with former President Bill Clinton, former Secretary of State Hillary Rodham Clinton and their daughter Chelsea Clinton.
The funnyman was on hand to interview the former first family during a closing session at the Clinton Global Initiative University at Arizona State University in Tempe, Ariz.
WATCH: Jimmy Kimmel tricks people with fake band names in hilarious lie witness news video
The initiative brings together 1,000 student leaders who develop strategies to try to solve some of their biggest social, economic and environmental concerns.
Kimmel's portion was a bit lighter, with the Jimmy Kimmel Live host covering topics like how the Clintons met at Yale Law School and their favorite television shows, according to the New York Daily News.
He also asked Hillary whether she had decided to run for President in 2016, to which she replied she hasn't decided yet.
"I am very much concerned about the direction of our country," she said. "And it's not just who runs for office but what they do when they get there and how we bring people together and particularly empower young people so we can tackle these hard decisions."
Game on, DeGeneres.
PHOTOS: Take a look at some of the stars who have gotten political.
.@TheEllenShow- No Brad Cooper but 3 Clintons & a Kimmel @BillClinton @HillaryClinton @ChelseaClinton #selfie pic.twitter.com/GyGFxnUjfP — Jimmy Kimmel (@jimmykimmel) March 23, 2014
Copyright E! Online