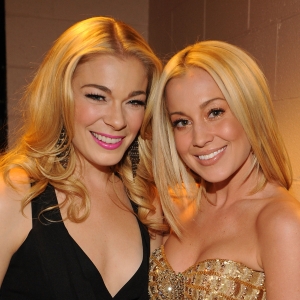 Kellie Pickler says fellow country cutie LeAnn Rimes has rebounded following last month's reports an alleged affair with her "Northern Lights" co-star Eddie Cibrian — an affair both LeAnn and Eddie have denied.

"She's amazing," Kellie said of LeAnn at Sunday night's 44th Annual Academy of Country Music Awards in Las Vegas.

VIEW THE PHOTOS: 2009 Academy Of Country Music Awards
"It's just something you have to, I guess, kind of take with the business," Kelli told Access Hollywood. "There's always gonna be people that say wonderful things about you and then you're gonna have those people that say awful things."

Adding, "So, you just surround yourself with people that love you and pray for you and support you."

VIEW THE PHOTOS: Country Stars
As previously reported on AccessHollywood.com, a rep for LeAnn called reports of the alleged affair "absolutely NOT true."

Eddie also denied reports of a relationship with the married singer, telling Access in a statement, "Other than being friends and two actors who were romantically intertwined in a movie-for-television we filmed last fall, there is no truth to the reporting initiated by US Magazine. It is a fabricated story that is using random snapshots as connective tissue to create a scandalous relationship."
Related Content from AccessHollywood.com:
VIEW THE PHOTOS: Former 'American Idols'
PLAY IT NOW: Backstage At The 2009 Academy Of Country Music Awards
PLAY IT NOW: 2009 Academy Of Country Music Awards Arrivals

MORE ACCESS ON THESE TOPICS: Kellie Pickler - Music - Country Music - Rumors - News

Copyright NBCAH - Access Hollywood