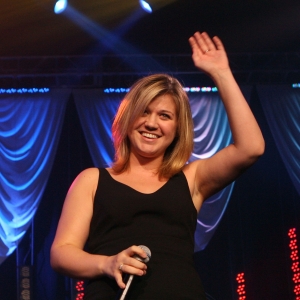 Kelly Clarkson may have beat out Justin Guarini on the first season of "American Idol," but according to the singer – it wasn't because of any votes she cast.

In a new interview with Newsweek's March 26 issue, the "My Life Would Suck Without You" singer said she's never called or texted for her favorite contestant on the popular Fox reality show.

VIEW THE PHOTOS: 'American Idol' Season 8 Top 13
"No. I never even voted for myself," she told the mag. "I thought it was such bad karma. And I'm kind of just lazy."

Though Kelly doesn't run to her phone when Ryan Seacrest tells the audience that the phone lines are open, she does still tune in when her schedule permits.

VIEW THE PHOTOS: Since She's Been Gone: Catching Up With Kelly Clarkson
"Whenever I can catch it," she said when asked if she still watches the show.

Kelly noted, however, that being overseas or on the road doesn't help when it comes to getting her "Idol" fix.

"They always have the show on when I can't watch it. I'm either on tour or I'm in Europe," she said. "But I love watching it."

VIEW THE PHOTOS: Former 'American Idols'
Kelly said she's still close with fellow "Idol" alum, new dad Clay Aiken, but not close enough to change his son's diapers.

"Oh, my God," Kelly said when asked if she would watch Clay's son Parker. "First of all, Clay would know better than to have me baby-sit his child."

"I'm not, like, bad with them," she continued. "I'm awesome at the aunt thing. I'll hang out with my oldest; out of all my nieces and nephews, the nephew is the oldest, he's 7. But I'm not really good with the whole baby thing," Kelly added. "I don't do the diaper thing."
Related Content from AccessHollywood.com:
PLAY IT NOW: 'Idol' Feud: Paula Abdul Sets The Record Straight (March 6, 2009)
PLAY IT NOW: Behind The Scenes: Kelly Clarkson's 'My Life Would Suck Without You' Music Video Shoot

MORE ACCESS ON THESE TOPICS: Kelly Clarkson - Music - American Idol - FOX - Celebrities

Copyright NBCAH - Access Hollywood