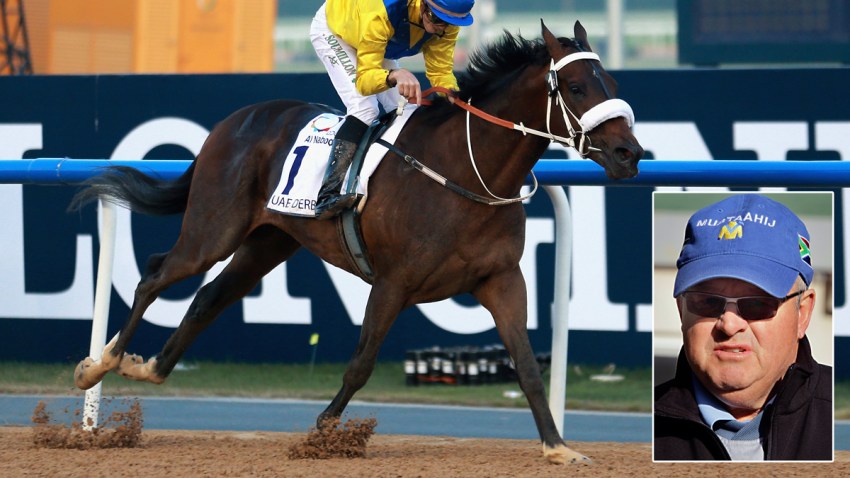 One wildcard contender in Saturday's Kentucky Derby didn't have an easy journey to Churchill Downs. Mubtaahij's entry into the race touched off a 24-hour trek from Dubai to the U.S., with plenty of hurdles along the way for him and his trainer, Mike de Kock.
De Kock, one of South Africa's premier trainers, has won races on four continents, but Saturday will be the first time he'll have a horse race at Churchill Downs. If that weren't challenge enough, de Kock cannot give Mubtaahij his regular food, and it's the first time the colt is racing in the U.S.
"I don't think there's a massive amount of expectation," de Kock, 51, told NBC of his 3-year-old thoroughbred, whose name means "elated" in Arabic.
Mubtaahij is considered a wildcard, but his trainer and experts say he deserves to be running in the field headed by champion American Pharoah and unbeaten Dortmund, along with strong contenders like Frosted, Carpe Diem, Materiality, International Star and Firing Line.
"This is definitely one of the toughest Kentucky Derbys that we've seen in quite some time, but Mubtaahij still deserves to be in the field," NBC Sports' racing analyst Randy Moss said. "The way he won the UAE Derby, the ease with which he won it, the acceleration that he showed made it pretty much a no-brainer that at least they ship him over and give him a try. I don't think it's an impossible task at all."
But running in the Derby's crowded field of 20 horses will be a new experience for Mubtaahij. The colt has only ever run in much smaller fields, so it's anyone's guess how he'll fare in Louisville, de Kock said.
"I don't know what he's going to do. I can't even venture a prediction," de Kock said. "But he does have a very sound mind, and I'm relying on that."
Long Voyages With New Food
Mubtaahij, owned by the Dubai emir's cousin Sheikh Mohammed bin Khalifa bin Saeed Al Maktoum, arrived at Churchill Downs Monday night after an epic trans-Atlantic journey that began April 15. After a 24-hour trip from the United Arab Emirates to Amsterdam to Chicago, the horse spent the last few weeks quarantined and training for a few days at Arlington Park in Chicago.
"It's just a long time on the road," de Kock said. "He's coming out of 37 degrees Celsius [about 98 degrees Fahrenheit] in Dubai into Chicago, where it was one or 2 degrees overnight."
And now that the colt is in Louisville, he has to adjust to a new diet; he can't eat his regular feed in the U.S., because it's not approved by the Food and Drug Administration (FDA). De Kock says the change in what he's been eating since he arrived stateside hasn't affected his mood or appetite, but there's no way to tell now how it may affect his run Saturday at the Derby.
Mubtaahij will also be the first horse in a decade to compete in the race without Lasix, the blood-thinning drug that all other Derby thoroughbreds are given to protect against exercise-induced pulmonary hemorrhage. If he should win, he'd be the first Lasix-free Derby champ since Grindstone in 1996. De Kock says Mubtaahij doesn't need the medication.
"I don't see it as disadvantage, and it wouldn't be an excuse, either," de Kock said. "I feel that the horse doesn't have a problem with bleeding, and I just don't want to give the medication because everyone else is giving it."
The colt has also never raced on a track in the U.S., though he has run five times in the past five months, capturing the $2 million U.A.E. Derby on March 28 and earning a chance to compete across the Atlantic. He has four victories in five starts on dirt, after performing poorly in his first two career starts on turf.
Intense Pressure in Louisville
Still, the pace of the Kentucky Derby will be a challenge for Mubtaahij, according to Moss, because it and other major horse races in the U.S. are run at a faster pace than the races in Dubai this year, the U.A.E. Derby in particular. Jockeys at the Kentucky Derby get more aggressive in the first part of the race than they might ordinarily in a mile-and-a-quarter race.
"When you have a 20-horse field, there's added pressure on the riders to get positioned and avoid being put in a situation where they run in a middle of a big crowd of horses, and you get bumped around," Moss explained." It definitely will be faster — much faster than what Mubtaahij has encountered in Dubai."
The speed and the large contender field aren't the only challenges. The level of noise at Churchill Downs on the day of the race can be overwhelming to any horse. They can get stressed and frazzled, becoming more quickly fatigued.
"There is no way to prepare a horse for it," Moss said. "For the most part, race horses are trained in pretty bucolic settings, without a lot of stress. There aren't very large crowds anymore even for a lot of the major races, so when they get to Churchill Downs and they hear 150,000 people on the Kentucky Derby day, it's a completely foreign experience for the racehorses."
De Kock joked that he's probably picked the worst year to attempt to run in the Kentucky Derby, but he considers it a fact-finding mission.
"If this works really well, we hope to repeat it," de Kock said. "It's all quite a bit experimental, but we do know we have a lovely horse."