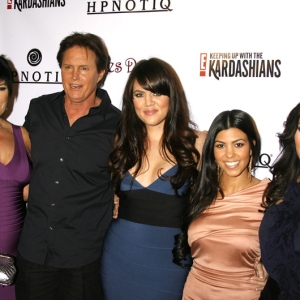 Kim Kardashian has hinted that someone in her family would be undergoing plastic surgery in this season of "Keeping Up With the Kardashians."
And now, Kim has revealed it was her stepfather, former Olympian Bruce Jenner, who went under the knife.
VIEW THE PHOTOS: Keepin' Up With Kim Kardashian
"Ever since I revealed in recent interviews that one of my family members would be going under the plastic surgeon's knife on the show, I've been inundated with emails and calls asking who it is!! I can reveal that it was my stepdad Bruce!" Kim wrote on her blog.
However, it won't mark the first time Jenner has had cosmetic surgery done.
VIEW THE PHOTOS: Keepin' It Real With TV's Hottest Reality Stars!
"Twenty five years ago, Bruce was ill-advised by a doctor to have a partial facelift and a nose job. Unfortunately, the result wasn't what Bruce had hoped for and for years since then he has been the victim of cruel taunts from the media," Kim continued. "Since he's turning 60 in October, Bruce felt it was time to correct the mistakes made by the previous doctor so he went to a new doctor for a second facelift."
And while the results of the new surgery won't be revealed until the May 17 episode of the family's E! reality show, Kim said her stepdad came out looking great.
"The results are amazing! Bruce looks better than ever and he is extremely happy with the result," she wrote.
VIEW THE PHOTOS: Love Connection: Celebs & Athletes
Jenner, the gold medal winner in the decathlon at the 1976 Summer Olympics, married Kim's mother, Kris, in 1991.
Related Content from AccessHollywood.com:
PLAY IT NOW: Kourtney & Khloe Kardashian Talk New 'Miami' Reality Show
PLAY IT NOW: The Kardashians Take Monte Carlo!

MORE ACCESS ON THESE TOPICS: Kim Kardashian - Reality TV - Celebrities - Athletes - TV

Copyright NBCAH - Access Hollywood