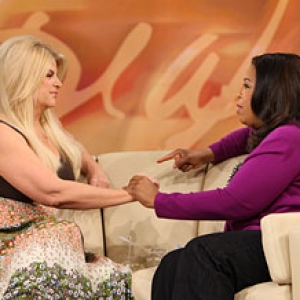 Kirstie Alley made a memorable appearance on "The Oprah Winfrey Show" in 2004 to show off her slimmed-down bikini body – but on Thursday, following a recent weight gain confession from Oprah herself, the star returned to the talk show to open up about her weight battles.
"It's humiliating," she told Oprah. "The most painful thing for me is that I have all these people that I inspired and then I let them down."
VIEW THE PHOTOS: The Latest Star Sightings
The former Jenny Craig spokeswoman – who said she encouraged Valerie Bertinelli, now the new Jenny Craig spokeswoman, to join the plan — added that once she stepped off the plan, the 75 pounds she'd lost on it started coming back.
"When you're a spokesperson for a weight loss company … somebody weighs you every week," Kirstie said. "It's pressure, but it's good pressure. I do better if I have some pressure on me," Kirstie said. "When I didn't have that anymore … I just said, 'I'm going to cut myself some slack.' Big mistake."
VIEW THE PHOTOS: Celebs Who Give Back
And the attention she's gotten since gaining the weight back hasn't been positive.
"This [paparazzi] said to me, 'Fat ass, turn around so I can shoot you!'" she said of a recent encounter.
"I've hated myself," she continued. "You beat yourself up, and I [asked myself], 'What am I doing?'"
VIEW THE PHOTOS: Oprah Winfrey
But though she's had a weight setback, Kirstie said she has made progress on aspects of her health, telling Oprah that she quit smoking after her appearance on the show.
"I haven't smoked since," she noted. "I think that this should be celebrated."
And to get back in shape, she's moving her gym equipment back into her living room after a year and a half in the garage – and working on her own weight loss line.
"I've actually lost 20 pounds in the last five weeks doing that," she said. "It's not going to be on the market until probably between November and January 1."
To get ready for the launch, she's putting herself on a six-month timeline.
"By November, I have to look ripped," she said.
Related Content from AccessHollywood.com:
PLAY IT NOW: T.G.I.F. - Kirstie Alley Falls Off The Weight Wagon? (April 29, 2009)
PLAY IT NOW: Access Archives: Oprah Winfrey

MORE ACCESS ON THESE TOPICS: Weight Loss - Oprah Winfrey - TV - Kirstie Ally - Celebrities

Copyright NBCAH - Access Hollywood