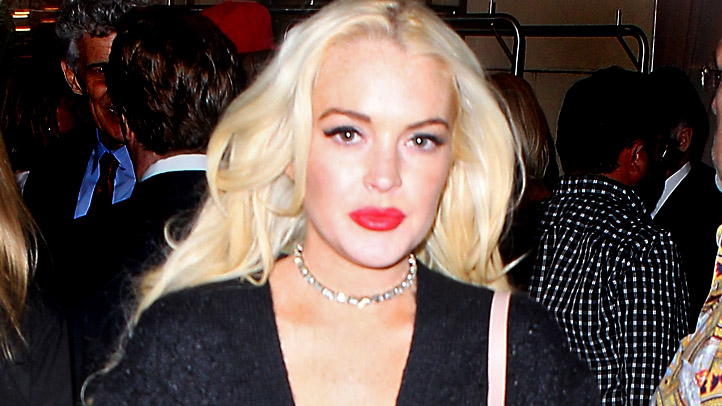 Lindsay Lohan's Playboy pictorial spread has leaked online.
More than just the cover, what appears to be the entire spread – 10 photos showing Lindsay mostly topless and her groin region obscured, and the feature article — have hit the web.
VIEW THE PHOTOS: Lindsay Lohan's Courtroom Couture
Some of the photos, posted on the IMGUR photo sharing website, show a blonde Lindsay with a Marilyn Monroe style hairdo, posing in front of a red curtain and atop pillows in poses very similar to those from the classic bombshell starlet.
When asked why she posed for Playboy, Lindsay cited the "Some Like It Hot" star.
VIEW THE PHOTOS: Bunnies Who Made It Big In Hollywood
"Sex and sexuality are a part of nature, and I go along with nature," Lindsay reportedly told the mag. "I think Marilyn Monroe said that, and I agree with her."
Other poses show Lindsay with her long blonde hair curled, with the actress posing in nothing but light brown platform stilettos.
Another pic has the actress wearing just a fur wrap.
VIEW THE PHOTOS: Young Hollywood Starlets!
In the feature story, Lindsay was asked what she's learned from her troubles.
"That ultimately we are each responsible for ourselves and for our actions," she reportedly told the mag. "Looking back, I probably would have listened to and taken more advice from the people I admire and would have followed through with it more, but my stubbornness at 18 and 19 got in the way."
VIEW THE PHOTOS: Lindsay Lohan: The Early Years
A rep for Playboy did not have a comment when reached by Access Hollywood on Friday.
Later Friday afternoon, however, Hugh Hefner announced the issue would be released sooner than anticipated due to the leak.
"Because of the interest & the Internet leak, we're releasing the Lindsay Lohan issue early," he wrote. "Lindsay Lohan was the top search name on the Internet yesterday. Her issue goes on sale late next week. Hot. Hot. Hot."
AH Nation Poll: Now that Lindsay's Playboy spread has been leaked, will you still buy the magazine? CLICK HERE to vote.
Copyright 2011 by NBC Universal, Inc. All rights reserved.
This material may not be published, broadcast, rewritten or redistributed.
Related Content from AccessHollywood.com:
PLAY IT NOW: Access Archives: Lindsay Lohan — 'You'll Never See Me In A Nude Scene!' (2005)
PLAY IT NOW: Lindsay Lohan In Court: Judge Sentences Her Back To Jail (November 2, 2011)
More from Access: [ Lindsay Lohan Playboy Marilyn Monroe ]
Copyright NBCAH - Access Hollywood