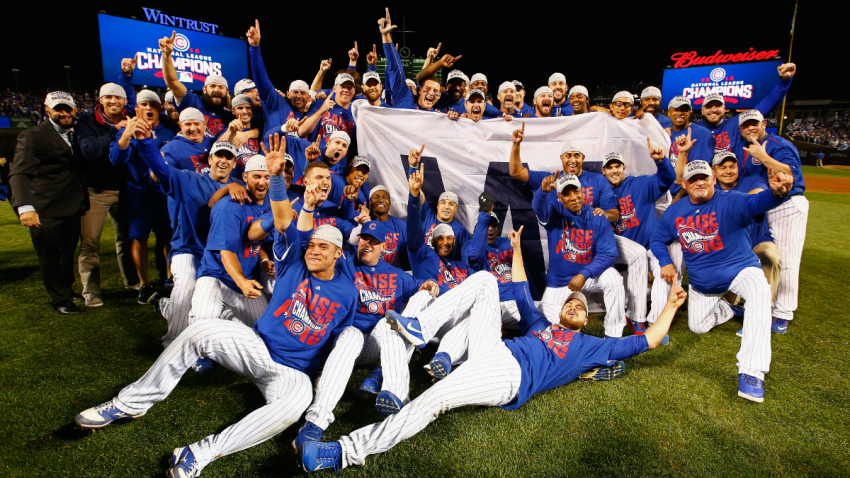 For the first time since 1945, the Chicago Cubs are headed to the World Series as they beat the Los Angeles Dodgers on Saturday night.
Kyle Hendricks allowed a lead-off single to Andrew Toles to start the game, but he was quickly erased on another stellar defensive play by Javier Baez. Corey Seager hit a soft grounder to the Cubs' second baseman, and he started a 4-3 double play to get the Cubs out of trouble.
The Cubs' offense immediately took advantage in the bottom of the first as they got back-to-back hits off of Clayton Kershaw. Dexter Fowler hit a ground rule double down the right field line, and he was chased home by a Kris Bryant RBI single to give the Cubs a 1-0 lead.
After an error by Toles allowed runners to get to second and third, Ben Zobrist lifted a sacrifice fly to center field, scoring Bryant and putting the Cubs ahead by a 2-0 margin.
Outside Wrigley Field, the City of Chicago's Office Emergency Management & Communications announced just before 8 p.m. that because of the crowd size, no additional pedestrians would be allowed on Clark Street between Newport and Addison.
Back inside the ballpark, the Cubs extended their lead in the bottom of the second inning. Addison Russell socked a double into left field, and he later scored on an RBI single by Fowler to make it a three run game.
After a 1-2-3 inning by Hendricks, the Cubs had another chance to score in the third inning but couldn't convert. Rizzo socked a double into the gap, but he was stranded as Zobrist flew out and Baez struck out to end the frame and keep the Dodgers within shouting distance.
Willson Contreras made his presence felt in a big way in the fourth inning, cracking a solo home run over the left field wall to give the Cubs a 4-0 lead.
Hendricks' domination continued with another perfect inning in the fifth, and he was picked up again by his offense in the bottom of the inning. This time it was Rizzo doing the honors, blasting a home run to the right field bleachers to make it a 5-0 game.
Hendricks continued to cruise into the eighth inning when he gave up a one-out single to Josh Reddick. Joe Maddon pulled him in favor of Aroldis Chapman, and the decision paid off as Joc Pederson grounded into a double play to end the inning with the Cubs ahead.