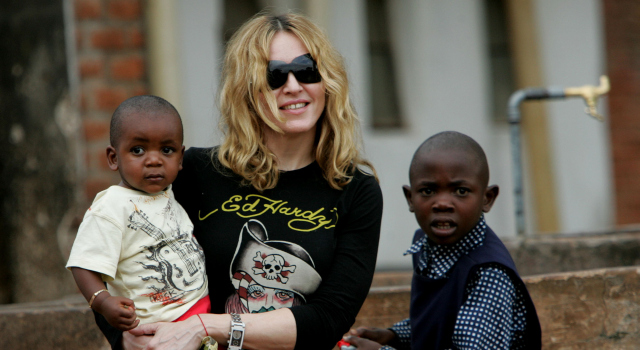 Megastar Madonna has finally confirmed that she'll try and adopt another baby from the African nation of Malawi, E! Online reported today.
The "Like a Virgin" singer is trying to bring 4-year-old Chifundo "Mercy" James back to her Hollywood digs, where the African toddler would join Madonna's other kids, Lourdes, 12, Rocco, 8, and David Banda, 3.
Madonna first jumped on the Angelina Jolie international adoption bandwagon in 2006 when she adopted Banda from Malawi.
"Madonna is committed to maintaining an ongoing relationship with David's Malawian roots," the singer's spokeswoman Liz Rosenberg said.
"Madonna is currently awaiting a judge's ruling regarding the adoption of Mercy James. She is following all standard procedures that are required," she said.
Malawian adoption officials spoke out against Madonna's adoption hopes this week and last, saying the Material Mom's flings with New York Yankee Alex Rodriguez and twenty-something model Jesus Luz made her an irresponsible choice for parenthood.
Madonna's divorce from director ex-hubby Guy Ritchie also played a part - Malawian officials said the pop diva lived in a "broken home" that could be unfit for a child.
"Mercy James is a child who has her extended close family members alive and we urge Madonna to assist the child from right here," a statement from a Malawi adoption-rights coalition said.
Madonna rocked a $2,800 Chanel sweatsuit in David Banda's native village in Malawi this morning as she toured impoverished neighborhoods in the area. She and her children paid a visit to David's native orphanage, where she saw where the little boy grew up before she adopted him several years ago.
"It was an emotional moment," the orphanage's director said.
Madonna closed her first adoption hearing this morning, but the judge adjourned the case until Friday.