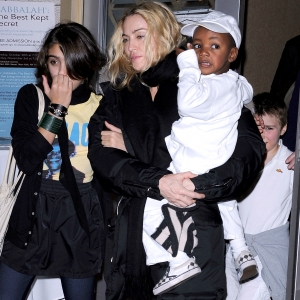 Madonna's been called the Material Girl – and according to Forbes, she's a Material Mom as well.
The pop queen topped the magazine's 2008 list of the Hardest-Working Moms with $110 million in estimated earnings.
VIEW THE PHOTOS: Celebs & Their Moms
Madonna's income came from sales of her latest album, "Hard Candy," and also a successful tour, as well as her product endorsements.
She's the mother of three children, Lourdes, Rocco and David, the last of whom she adopted from Malawi in 2006.
VIEW THE PHOTOS: Hollywood's Hottest Moms And Their Loveable Little Ones
A judge denied her application to adopt another orphan, a young girl named Mercy, from the country, but the star has said that she plans to appeal the decision.
In second place on Forbes' list with $24 million was actress Reese Witherspoon, who starred in "Four Christmases" and serves as the international spokeswoman for Avon.
The star is mother to children Ava and Deacon, from her former marriage to Ryan Phillippe.
VIEW THE PHOTOS: Madonna - Music's Royal Madgesty!
Third on the list was Gwyneth Paltrow with $20 million in 2008. Gwyneth made a Hollywood comeback last year with "Iron Man," as well as launching her lifestyle newsletter, GOOP; she and rocker husband Chris Martin have two children, Apple and Moses.
Coming in fourth was another returning actress, Julia Roberts, who starred in this year's "Duplicity" and has three kids — twins Hazel and Phinnaeus and baby Henry. She earned a reported $17 million.
And in fifth place with $15 million was Sarah Jessica Parker, star of last year's TV-to-the-big-screen hit, "Sex and The City."
The star also has two Coty fragrances lines and other endorsement deals. She and husband Matthew Broderick have a son, James Wilkie.
A number of other famous moms rounded out the list – in sixth place, Angelia Jolie, who earned $14 million last year and gave birth to her fifth and sixth kids, twins Knox and Vivienne; in seventh, supermodel and "Project Runway" host Heidi Klum, who is currently pregnant with her fourth child; in eighth, Oscar darling Kate Winslet, who has two daughters, with $12 million; in ninth, fashion icon Kimora Lee Simmons with $12 million and in tenth, "Live with Regis and Kelly" host Kelly Ripa, with $10 million. Kelly has three children, Michael, Lola and Joaquin, with husband Mark Consuelos.
Rounding out the list were rocker mom Gwen Stefani, former Spice Girl and current fashion queen Victoria Beckham, actresses Jessica Alba and Cate Blanchett and country star Faith Hill.
Related Content from AccessHollywood.com:
PLAY IT NOW: Access Search Engine: Exclusive Madonna Accident Details (April 21, 2009)
PLAY IT NOW: Reese Witherspoon Talks 'Monsters Vs. Aliens'

MORE ACCESS ON THESE TOPICS: Madonna - Parenthood - Reese Witherspoon - Celebrity Kids - Gwyneth Paltrow

Copyright NBCAH - Access Hollywood