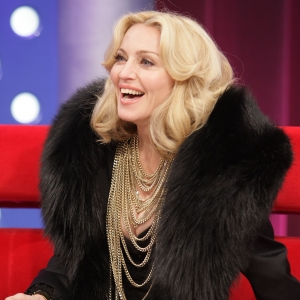 The Material Mom has some haters when it comes to fur.
Madonna has been voted PETA's worst-dressed star of 2009, according to an online poll at PETA.org.
VIEW THE PHOTOS: Stars Go Naked For PETA
Joining Madonna on this year's list were celebs such as the Olsen twins, Maggie Gyllenhaal, Kanye West and Elizabeth Hurley.
"When you see Madonna in fur, you realize why nobody has copied her style since 1984," PETA commented on its Web site. "We know that she's on the prowl for a young cub, but someone needs to tell Madge that wearing fur doesn't make you a cougar."
VIEW THE PHOTOS: Madonna - Music's Royal Madgesty!
As for aspiring fashion designer Kanye West, the organization had some harsh words for the colorful rapper.
"Kanye rants about not winning Album of the Year at the Grammy Awards, but what he really deserves is a 'lifetime bereavement award' for all the corpses in his closet," PETA wrote. "Kanye, we love the quirky suits, but you can't claim to be 'the voice of this generation' while flaunting fur, which is old-school and cruel.
Runners-up to the list included Ashton Kutcher and Demi Moore, Mary J. Blige and Kate Moss.
VIEW THE PHOTOS: The Olsen Twins
Last year, music icon Aretha Franklin was dubbed PETA's worst dressed celeb, followed by Marilyn Manson, Lindsay Lohan, Eva Longoria Parker and Kate Moss.
Related Content from AccessHollywood.com:
PLAY IT NOW: PETA's Banned 'Veggie Love' Sexy Super Bowl Ad
PLAY IT NOW: Amanda Beard Bears All For PETA

MORE ACCESS ON THESE TOPICS: Madonna - PETA - Mary-Kate Olsen - Kanye West - Ashley Olsen

Copyright NBCAH - Access Hollywood