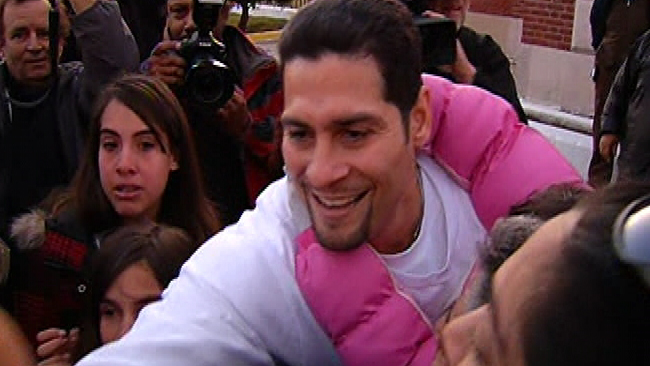 Juan Rivera, an Illinois man who spent nearly 20 years in prison for a rape and murder he didn't commit, will receive a $20 million settlement for his years behind bars, setting a new U.S. record for an individual case of wrongful conviction, his attorneys announced Friday.
The settlement equates to about a million dollars for each year he spent behind bars and brings Rivera's case to a close.
"No amount of money could ever sum up to 20 years of prison," Rivera said. "I went through a living hell while I was prison so to say that $20 million is a wonderful thing, of course. You know, I could live more comfortable now, my family can, I can go to college, get my education the way I've always wanted, but I still would prefer my 20 years with my family than $20 million."
Rivera was convicted at the age of 19 in the rape and fatal stabbing of 11-year-old Holly Staker in 1992 and served almost 20 years of a life sentence at Stateville Prison in Joliet, Illinois.
Rivera's conviction was appealed three times, and each time a jury found him guilty
During his last trial, in 2009, advancements in technology allowed investigators to test DNA recovered from Staker's body. The genetic profile recovered from the fingerprints, hair and other evidence collected at the scene of the crime could not be traced back to Rivera, nor was it a complete match of any other profile already in the national database.
The majority of the case prosecutors built against Rivera revolved around a confession he signed. Though he admits to initially lying to investigators about where he was the night of the crime, Rivera argues the confession he signed after a four-day police interrogation was coerced.
In December, 2011 the 2nd District Appellate Court north of Chicago overturned the conviction saying the evidence against Rivera does not go beyond a reasonable doubt. He was released Jan. 6, 2012, a day he declared his new birthday.
"You hope that the $20 million is enough of a disincentive for behavior to change. That's what you hope," said Rivera's attorney Locke Bowman. "You hope that people would rather investigate the case properly, they'd rather pursue appropriate procedures for interrogation, they'd rather handle the evidence the way it's supposed to be handled than face these kinds of consequences."
Rivera, now 42, says he's not angry about what happened to him, but said he is resentful.
"I've gotten threats, I've gotten different kind of looks so I live my life always looking behind back," he said. "There are others that still believe that I'm guilty, so I still live my life on pins and needles not knowing who to trust."
Attorneys announcing the settlement Friday said Staker's killer remains at large and may have been involved in other killings since Rivera's conviction.
On Friday, Rivera said he hopes to use the money to go to college to study business management and accounting, to put his nieces through school and to help pay for his mother's medical bills.