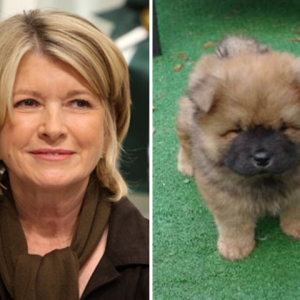 Television lifestyle guru Martha Stewart lost her prized Chow Chow in a freak propane explosion at a kennel in Pennsylvania on Friday.

Martha's dog, Ghenghis Khan, was one of the 16 dogs lost in the explosion that rocked the Pazzazz Boarding Kennel in Carbon County, following a routine delivery of propane.

VIEW THE PHOTOS: Dogs And Their Stars
"I am deeply saddened by this story. My heart goes out to Karen Tracy and I am hoping for a speedy recovery for those (both pets and humans) injured in this terrible event," Martha wrote in a blog post on her Web site.

"Here is a tribute to my little Ghenghis Khan who perished in the blaze," Martha wrote on her blog, which included a photo gallery of Ghenghis.

VIEW THE PHOTOS: The Latest Star Sightings
In addition to the 16 animals who perished in the explosion, 13 surviving dogs were taken to two nearby animal hospitals for treatment.
According to the Associated Press, the driver of the propane truck, Timothy Kleinhagen, was critically burned and is listed in stable condition.
A spark or static electricity is believed to have caused the explosion and subsequent fire.
VIEW THE PHOTOS: First Pets: Animals That Have Raised The White House Woof!
See more pics of Genghis Khan on Martha's Blog, here and here.
Related Content from AccessHollywood.com:
PLAY IT NOW: Heidi Klum Gets Crafty On 'The Martha Stewart Show'
PLAY IT NOW: Access Extended: Tony Heads Out To Martha Stewart's Farm

MORE ACCESS ON THESE TOPICS: Celebrities - Animals - TV - Deaths - News

Copyright NBCAH - Access Hollywood