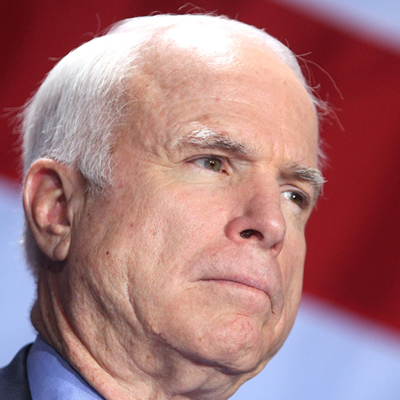 Sen. John McCain isn't committing to supporting his vice presidential pick, Alaska Gov. Sarah Palin, if she runs for president in 2012.

McCain — the GOP's presidential nominee last year — says he wants to see who the other candidates are and what the situation might be.
When asked whether he'd like to see Palin win the presidency, McCain wouldn't give a definitive answer.

"I'd like to see her compete," he said. "I think we have some very good candidates."
He also said he was unsure whether he would support his former running mate.
"I'd have to see who the candidates are and what the situation is at the time," he said.
The Arizona senator elevated Palin to the national stage with his surprise pick. He says he has great affection for Palin and her family. But he also cites three other governors — Utah's Jon Huntsman, Louisiana's Bobby Jindal and Minnesota's Tim Pawlenty as potential candidates.

McCain joked he was going to get himself in trouble for forgetting a name.

McCain appeared on NBC's "Meet the Press."