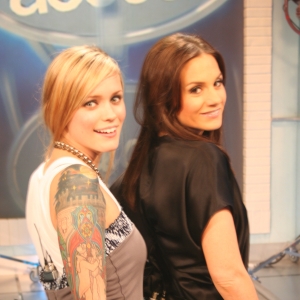 Blonde beauty Megan Joy was booted off "American Idol" last week, but just making the show was a huge triumph for the 22-year-old Utah-based mother.
During a visit to Access Hollywood, where she met up with "Idol" judge Kara DioGuardi for some advice, Megan revealed she had very little training before appearing on the show.
VIEW THE PHOTOS: 'American Idol' Season 8 Contenders & Their Celebrity Look-A-Likes
"I tried out for everything I could think of during junior high, in high school – didn't make anything," Megan revealed. "Even the choir that anyone can be in, I wouldn't even make like a silly little solo."
"That's just so wrong, Megan," Kara said.
VIEW THE PHOTOS: 'American Idol' Season 8 Top 13
"It was sad," Megan replied. "I cried a lot in those years."
As one of "American Idol's" Top 10, Megan will continue to put those tears aside as she hits the road with her fellow "Idol" cast mates this summer on tour. After that, however, Megan might try her hand at penning her own material.
"Where do you see yourself now? What kind of record would you make?" Kara asked.
VIEW THE PHOTOS: Keepin' It Real With TV's Hottest Reality Stars!
"Adele and Amy [Winehouse] and Duffy – I love their sound. If I was gonna veer in a direction, I would love to do that," Megan said. "But I've never tried writing, so I don't know what's inside, but maybe it's something super different and awesome that, you know, [is] new."
Related Content from AccessHollywood.com:
PLAY IT NOW: 'Idol' Judge Kara DioGuardi's Singing Advice For Megan Joy
PLAY IT NOW: Booted 'Idol' Megan Joy Sings 'Walking After Midnight'

MORE ACCESS ON THESE TOPICS: American Idol - Reality TV - Music - TV

Copyright NBCAH - Access Hollywood