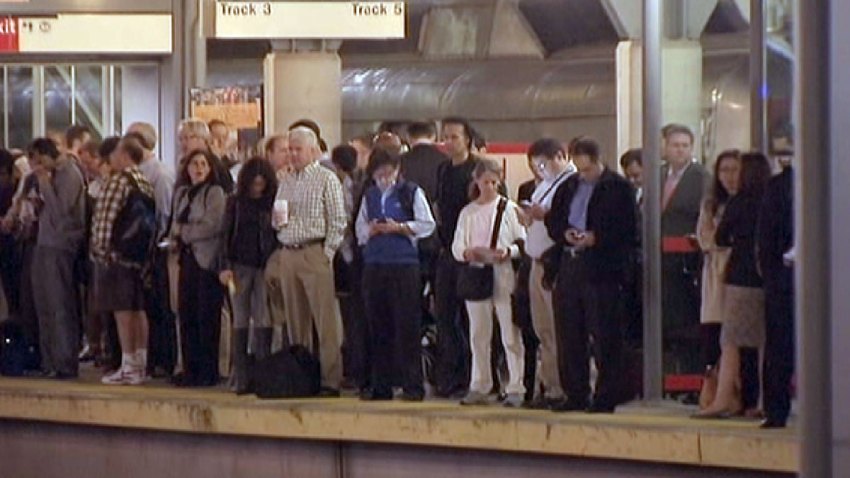 Federal and state authorities should investigate the utility and transportation authority responsible for running the nation's second-busiest railroad following a power failure that has disrupted service for tens of thousands of commuters in New York and Connecticut, two U.S. senators said Sunday.
Sens. Charles Schumer, D-N.Y., and Richard Blumenthal, D-Conn., announced they have sent a letter to officials at the Department of Energy and New York's Public Service Commission asking them to help restore power and figure out what caused the Wednesday power outage at a suburban New York substation of the Metro-North Railroad.
The heavily used line between New York City's Grand Central Terminal and New Haven, Conn., is serviced by two high-voltage feeder cables. One of them was taken offline weeks ago as part as a previously scheduled upgrade. It is not known what caused the second feeder cable to fail. The outage, officials have said, could take as long as three weeks to repair.
"The Department of Energy needs to join up with the investigators at the Public Service Commission and utilize their expertise to figure out what exactly went wrong and why, and how it can be fixed," Schumer said.
A spokesman for the Metropolitan Transit Authority, which oversees Metro-North, said in a statement that the agency is confident one normally functioning 138,000-volt cable could carry the full load of electricity needed while the other cable is being upgraded.
New York-based utility Consolidated Edison, which supplies electricity to the line, said its focus is on restoring power to the tracks, adding it would work to determine the cause of the failure at the substation.
Commuters who rely on the train service have experienced hours-long delays since the outage, and highway traffic has been bumper-to-bumper in parts of Connecticut as riders took to the roads to get to and from work.
The MTA has been running diesel trains and shuttle buses on limited schedules to accommodate some of the affected ridership and during the weekend was testing whether three transformers drawing electricity from residential lines can be used to supply partial power to the line to New Haven.
Still, said the senators, more needs to be done to ensure a similar outage isn't possible anywhere else.
"To grow jobs and strengthen our economy, safe and reliable rail service must be a top priority, and it is simply intolerable for a single cable failure to imperil that progress," Blumenthal said.
Copyright AP - Associated Press