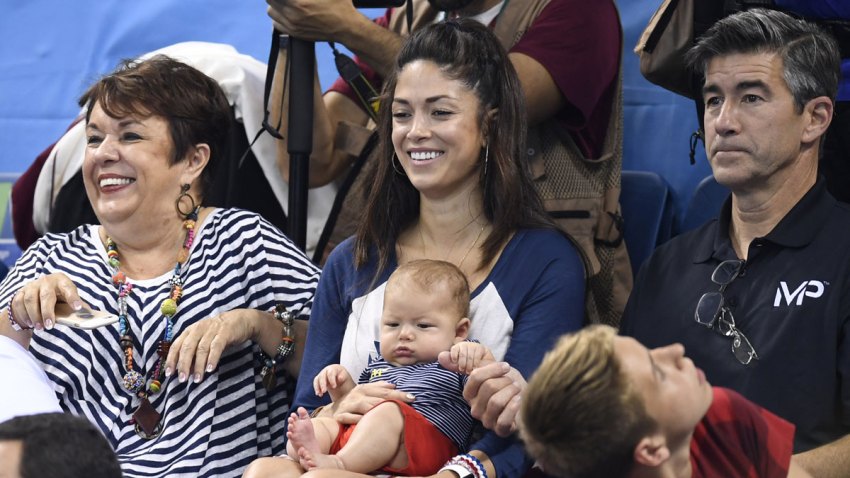 Everyone was watching Michael Phelps Sunday night as he won his first gold medal of the 2016 Olympics — especially one little guy.
The Olympic swimmer's 3-month-old son Boomer Phelps stole a bit of his father's thunder as he watched from his mother's arms during his dad's 4x100-meter freestyle relay.
Even as Phelps raced to victory, people all over the world could not help but gush over his baby boy, particularly with his pair of red, white and blue noise-blocking headphones.
The newborn, swaddled in a patriotic red and white star baby carrier with his father's initials embroidered on it, was a stylish hit on social media as photos circulated of him perched on mother Nicole Johnson's lap next to his cheering grandmother.
But the celebration proved a bit too much for him — he dozed off just as Phelps emerged from the pool to hand Boomer a stuffed animal and Johnson a bouquet of flowers.
The baby later popped up on social media to digitally cheer for his famous dad. "Thanks for sharing your gold medal with me dad!!! I love you and can't wait til I get to see you," his Instagram account read.
Phelps, who welcomed his son in May, is celebrating his first Olympics as a father. The most decorated Olympian of all time has even been wearing custom sneakers with his son's footprint marked on the sole of shoes.
"To have our first-born be able to watch--I'll say this just, in case I come back--my potential last Olympics," he said during a press conference. "Just so you guys don't beat me to death if I come back, I'm just going to say that: To have him watch the potential last races of my career is something I look forward to being able to share with him."
Michael Phelps Carries the American Flag as He Leads Team USA Into Rio Olympics Opening Ceremony
Copyright E! Online