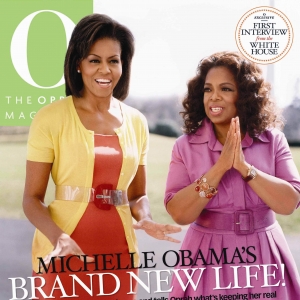 First Lady Michelle Obama is disappointed there have been rumors she's sporting a baby bump.
"I was like 'Baby bump? As hard as I work on my abs?!'" she told Oprah Winfrey for the talk show host's O Magazine's April 2009 issue.
VIEW THE PHOTOS: The Many Styles of Michelle Obama
"Here's the scoop," Michelle continued. "Not pregnant. And not planning on it."
In fact, Michelle is very interested in staying in shape, admitting she works out regularly, but not as much as her husband, President Barack Obama.
"There's a small gym here that has everything we need. I work out about four or five days a week – and Barack does six," the First Lady said. "He's a workout zealot."
And as for that workout, Michelle said she does the treadmill and weights, as well as some other physically demanding activities.
"I also do some jump rope, some kickboxing — and I'd like to take up Pilates, if I could figure out whether there's time," she told Oprah. "After I had Malia, I began to prioritize exercise because I realized that my happiness is tied to how I feel about myself. I want my girls to see a mother who takes care of herself, even if that means I have to get up at 4:30 so I can do a workout."
VIEW THE PHOTOS: 2009 Presidential Inauguration Balls
Food is a big deal for the Obama family too. On the campaign trail to the White House, Michelle said she and her family made efforts to eat natural foods and cut out "junk."
But, things didn't always work out as planned. Michelle admitted she didn't always turn down some of the sweet treats crafted by people across America or the occasional candy pick-me-up.
"A lot of times, I'd eat it. Hey, I love pie," she said. "I love a good candy bar. And sometimes when you're working so hard, the only thing you have is that candy bar and those potato chips. But if I went home to a balanced diet, then those days wouldn't kill me. I feel the same about the girls. If they're eating healthy most times, I don't panic when they get popcorn at the movies. I don't want them freaking out about food."
While Oprah suggested many Americans think of Michelle as perfect, the First Lady said she tries to be real at all times, flaws and all.
"I've always thought that what I owe the American people is to let them see who I am so there are no surprises," Michelle said. "I don't want to be anyone but Michelle Obama. And I want people to know what they're getting."
Related Content from AccessHollywood.com:
PLAY IT NOW: Access Exclusive: The Obama Family, Part V
PLAY IT NOW: Access Exclusive: Maria Menounos & The Obama Family, Part I

MORE ACCESS ON THESE TOPICS: Michelle Obama - Oprah Winfrey - TV One - Rumors - Politics

Copyright NBCAH - Access Hollywood