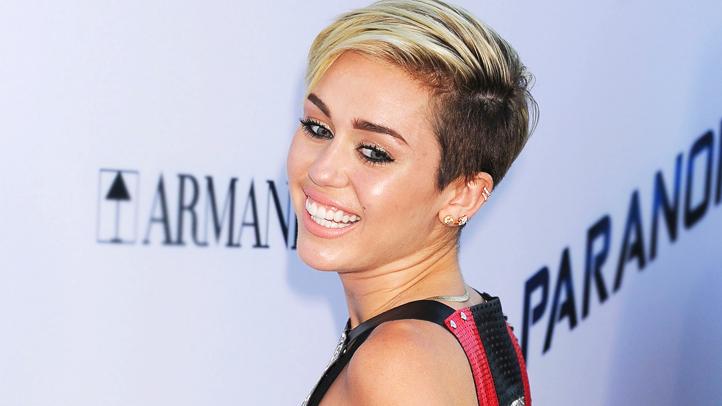 Miley Cyrus is set to host "Saturday Night Live" this week in her first extended live TV appearance since her raunchy August performance on the MTV Video Music Awards got tongues wagging.
The former child star, whose twerking antics offended some and made her a laughingstock to others, no doubt hopes to shake some intentional chuckles out of "SNL" viewers. While there's plenty of potential for humor, the show is shaping up as a test of whether Cyrus in on the joke or whether the joke's on her. Perhaps more important: Does she understand the difference or does she even care?
Cyrus, whether by design or accident, has succeeded in grabbing attention, though in a way more akin to a talent-free reality show star than someone who exhibited some comedy and musical potential in her not-so-distant teenage years. Like other former kiddie show veterans, the ex-Disney fixture is clearly in an image-busting phase.
There's a blurred line, though, between image busting and long-term career busting. Success won't be determined alone by Cyrus inspiring buzz over whether she's a train wreck or a wrecking ball (even if "Wrecking Ball" isn't a bad pop song).
While Cyrus's long-term strategy is unclear, her "SNL" stint is certainly a good short-term coup for the comedy program, which hasn't shied away over the years from enlisting hosts touched by controversy.
Andrew Dice Clay's appearance in 1990 spurred cast member Nora Dunn to boycott the show in protest of the comic's misogynist stage persona. Heiress, sex tape star and reality show figure Paris Hilton offered a memorably one-dimensional performance in 2005.
Lindsay Lohan launched one of her comebacks last year with an "SNL" hosting gig, mining her troubles for humor. She's experienced more woe since, though she recently began working the late night comedy circuit again, appearing last week in a skit with Jimmy Fallon mocking Cyrus' twerking spectacle.
Lohan, at 27, could tell the former "Hannah Montana" star plenty about the pitfalls of transitioning from child actor to adult celebrity. Cyrus, who turns 21 next month, at least showed a good sense of humor when she last hosted "SNL" a couple years ago. She played Justin Bieber in the program's "Miley Cyrus Show" skit, which is likely to be revived this weekend.
Let's hope Cyrus' recent outrageous turn is just an act. We'll feel less guilty about laughing at her – or with her – this Saturday. In meantime, check out some promos below:

Hester is founding director of the award-winning, multi-media NYCity News Service at the City University of New York Graduate School of Journalism. He is also the author of "Raising a Beatle Baby: How John, Paul, George and Ringo Helped us Come Together as a Family." Follow him on Twitter.
Copyright FREEL - NBC Local Media