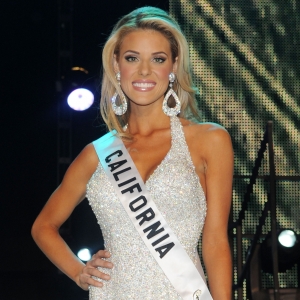 The controversy surrounding Miss California Carrie Prejean continued Monday during a press conference with Shanna Moakler and Keith Lewis – co-directors of the Miss California USA pageant, the same day a third racy photo of a woman which appears to be Prejean surfaced online.

Pageant officials announced the appointment of Miss California first runner-up Tami Farrell as their Beauty of California Ambassador- a position created because Prejean has made herself unavailable.

VIEW THE PHOTOS: The Latest Star Sightings
"When our reigning state title holder is unavailable, the ambassador will support our message and hammer home our state's strengths," Moakler said.

"This bold step of appointing an alternate will ensure that regardless of what takes place at Mr. Trump's press conference in New York, where he will decide the fate of our current title holder we're still going to be able to fulfill our responsibilities," Lewis said, referring to Trump's scheduled Tuesday announcement where he will reveal Prejean's fate.

During the press conference, Lewis revealed that Prejean's answer to the same-sex marriage question did not cost her the crown.

"Contrary to reports, she was not winning when she went into he final question, we can confirm she was third in swimsuit second in evening gown," Lewis explained. " [But,] to say her final question on same-sex marriage lost her the tiara just is not true. Her answer didn't give her enough edge to win."

Lewis and Moakler said they saw the leaked photos of Prejean the same time the public did.

VIEW THE PHOTOS: Hollywood Blondes
"When you decide to enter Miss California USA, you are given a document which asks for full disclosure. It does not say that any non-disclosed information will result in your in eligibility, in contrast it says, tell us and we will evaluate for determining eligibility," Moakler explained. "She, in fact, entered the pageant in false pretense. Another prominent issue here is that no one knows the difference between the comments and endorsements and activities of Carrie Prejean from those of the Miss USA title, that's why those activities are forbidden without our written consent."

Adding, "for us, the severity of nudity in the one photo Carrie Prejean has admitted was not the issue. The fact that she entered a pageant and admitted it is."

Also on Monday, TheDirty.com released another racy photo they claim to be Prejean. The Web site said they would post the "images of all images" on Wednesday.
Additionally, the beauty queen's mother, Francine Prejean, came to her daughter's defense on Monday telling MomLogic.com, "My daughter is a bright, beautiful, strong woman," she tells momlogic. "She entered a pageant to WIN. She was ready physically, mentally, and spiritually to answer any FAIR question that was given to her on that stage that evening. She was asked a question and she answered it HONESTLY and from her heart. She was raised in a CHRISTIAN home. Marriage is between a man and a woman. Now she's being persecuted for speaking her opinion. This is a country that allows freedom of speech. She has every right to exercise it… and she did."
She continued, "As a mother… I'm proud of her, that I raised a daughter that has morals, values, and integrity to speak the TRUTH. She had the courage that evening to face an evil man in front of millions of viewers… and not be afraid to speak what was in her heart! I know God is going to protect her from this evil man and all the others that are trying to attack her for voicing her opinion."
Blogger and Miss USA judge Perez Hilton, who asked Prejean the question that started the current controversy, also chimed in, telling the Web site, "Obviously Francine Prejean has been talking with the devil more than she has with God. I don't think I'm evil. She does. We can respectfully disagree. However, God does not think I'm evil. God loves me. And I love God. I spoke to God before the Miss USA pageant and she told me to ask that question. She also told me that Carrie Prejean did not deserve to win. Really! That's what God said to me. Ask her!!"
He added, "But, all kidding aside: the question I asked was fair and relevant. Carrie Prejean did not answer it as well as she could have. To this day, neither Carrie nor her mother acknowledge the fact that I was not upset with her answer to my question but HOW she answered it. Oh, and I spoke to God again today. She says that Carrie's title as Miss California should be taken away!"
Related Content from AccessHollywood.com:
PLAY IT NOW: Donald Trump: Is Miss California Fired? (May 7, 2009)
PLAY IT NOW: Miss California's Nude Photo Controversy (May 5, 2009)

MORE ACCESS ON THESE TOPICS: Carrie Prejean - Perez Hilton - Miss USA - Pageants - Celebrity Scandals

Copyright NBCAH - Access Hollywood