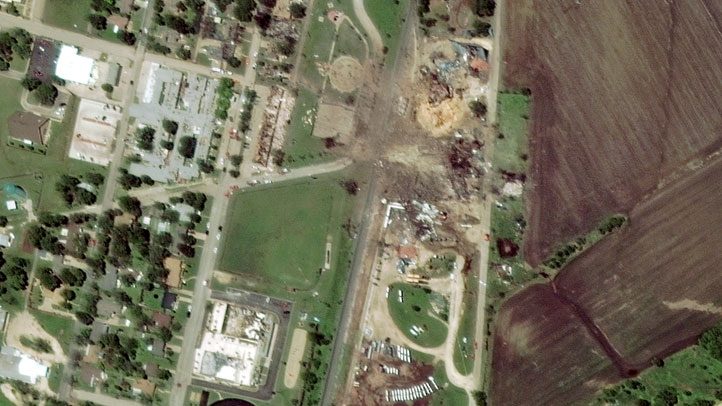 After any tragedy or major news event satellite images can tell the tale of the devastation.
We saw it with the tragic earthquake in Haiti in 2010 — and the earthquake and tsunami that devastated Japan in 2011.
DigitalGlobe provided images from West, Texas, on Jan. 30, 2012 and April 19, 2013.
The stark contrast shows the devastation left behind after the fire and explosion at West Fertilizer Co. on April 17 that registered as a magnitude-2.1 earthquake.
The blast killed 14 people and left 200 others injured. West has about 2,800 residents.
Among the scorched and heavily damaged buildings in the shadow of the plant were a 50-unit apartment complex and a nursing home, as well as the town's intermediate school. The high school south of the plant was also damaged.
The blast made perhaps its biggest mark on an apartment building directly across the railroad tracks from the site. The apartment building's roof was collapsed and its windows blown out, and chunks of concrete littered the space between the tracks and the apartments.
Dozens of homes close to the blast — some of which were leveled — may not be accessible to owners for another week or more.
Nearly 70 federal and state investigators are still trying to determine what caused the fire that set off the explosion, they're focusing on the crater left at the plant site. Authorities say there are no signs of criminal intent.
Copyright AP - Associated Press