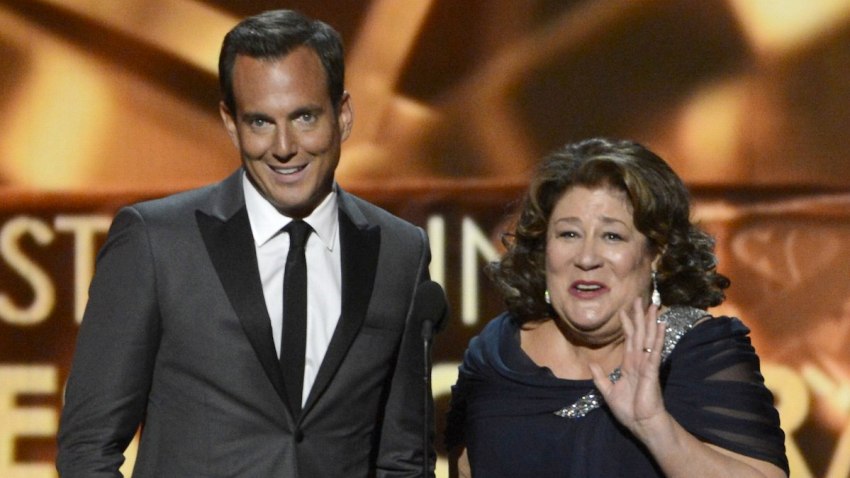 Let's be honest, we all tune in to award shows for the shocking moments and Twitter-friendly happenings as much as for the winners and losers.
And Sunday's Emmy ceremony provided much to discuss, ponder and marvel at (Will Arnett we're looking at you). Here are topics that are sure to be on everyone's lips Monday morning:
Will Ferrell's casual attire: The funny man and his children presented the night's big awards for best drama and best comedy series. But wait, it gets better. Looking more suited to a water park than a gala awards show, Ferrell appeared in dishevelled in baggy shorts, t-shirt and sport sandals. Ferrell explained his attire by joking he was a last minute substitute for Helen Mirren and Maggie Smith and that he couldn't get a sitter or even have the time to do his hair. Halway through his delivery he stopped to tell one of the kids to stop playing "Angry Birds" on his tablet. Genius.
Shemar Moore's awkward, behind-the-scenes chats: Moore's job during the Emmys elecast appeared to be the promotion of upcoming segments in the show and CBS vehicles in general. But the cut-ins featuring him with other actors and actresses turned out to just be uncomfortable. One segment involved the former "Soul Train" host calling Anna Faris and Allison Janney "beautiful, sexy and vivacious." Another segment featured an "interview" with TV legend Bob Newhart, who looked like he'd rather be working on someone's taxes than speaking with Moore.
Kevin Spacey, from his seat: The hijinx of the "House of Cards" star was a show unto himself at the Emmys. He was hilariously "evil" in a scripted moment in the show's opening, but more curiously amusing in an unscripted moment later. The camera turned to him during an on-stage speech and the actor shooed it away with a piece of paper.
Elton John and Liberace: The legendary Brit singer and songwriter performed a new song, "Home Again," which was co-written with longtime collaborator Bernie Taupin. John said he chose the song - which is featured on his upcoming album "The Diving Board" - because it reminded him of Liberace. For most viewers it just reminded them that John had a new album about to drop, and the sombre anthem did little to celebrate the showmanship and flare of the man who was once one of the most famous entertainers in the world.
Will Arnett's tan: Everyone appreciates Arnett's work on "30 Rock" and "Arrested Development" over the years, but his skin pigment at the Emmys made it appear he made a last minute stop at George Hamilton's tanning salon. This tweet summed it up best:
Will Arnett is the New Black. #swidt #Emmys — James (@mr_guigayoma) September 23, 2013

That choreography dance number: This segment showcased some of the best shows on television during the year and was a vehicle to reveal the winner of the best choreography Emmy ("Dancing With the Star's" Derek Hough took the statuette). Although the dancing was energetic and wardrobe selections were fitting, it felt disjointed. C'mon, a vignettes representing "Game of Thrones" and "American Horror Story"? Though the "Breaking Bad" breakdancers (we kid you not) may just have taken the cake.