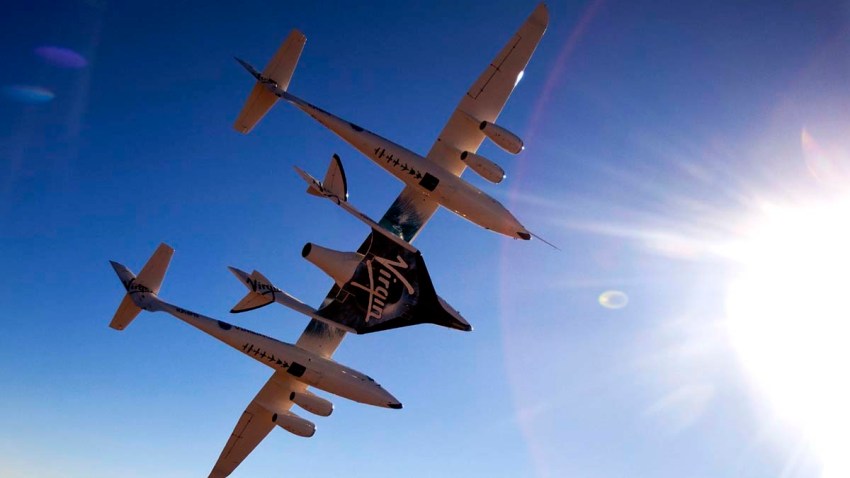 NBC announced Thursday it has reached a deal with reality TV king Mark Burnett and Sir Richard Branson's Virgin Galactic to create a new series called "Space Race," which will follow contestants as they compete to win a flight into space aboard Virgin Galactic's SpaceShipTwo rocket plane.
"The scope of this endeavor is so staggering that it took these two titans to even imagine it," Paul Telegdy, president of alternative and late night programming for NBC Entertainment, said in the press release. "The term 'trip of a lifetime' has for once been delivered on! This will be a remarkable experience for anyone who has looked at the night's sky and dared to dream of spaceflight."
According to Branson the partnership is a perfect fit for Virgin Galactic, whose mission "is to democratize space, eventually making commercial space travel affordable and accessible to all."
More than 600 customers have made their reservations for SpaceShipOne flights from Spaceport America in New Mexico, at a current price of $250,000 per seat.
SpaceShipTwo is currently being tested at California's Mojave Air and Space Port, and could take passengers on suborbital space rides as early as 2014.
For Burnett, the show is culmination of a long-held dream. "For the past ten years I have relentlessly pursued my dream of using a TV show to give an everyday person the chance to experience the black sky of space and look down upon mother Earth," the man behind such reality hits as "The Voice" and "Survivor" said in the statement. "Last year I spent time in New Mexico at the state of the art facility and last week spent time in the Mojave desert with Sir Richard and his impressive team."
No air date was revealed for the show or when the eventual winner would be jetting off. The release said One Three Media (the company behind the production) would be distributing "Space Race" at the upcoming MIPCOM TV market in Cannes.