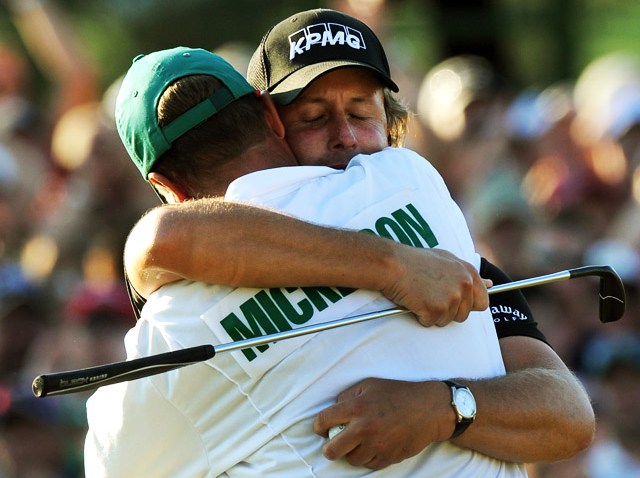 AUGUSTA, Ga. — Phil Mickelson has won his third Masters title, shooting a 5-under 67 to pull away for a three-stroke win over Lee Westwood.
Already a fan favorite and now the sentimental pick with his wife and mother battling breast cancer, Mickelson rolled in a 15-foot birdie putt at the signature 12th hole. He then managed a stunning shot off the pine straw and around a tree to set up another birdie at the next hole.
Lefty wrapped it up with yet another birdie at the 18th, then headed to the side of the green to hug wife Amy.
With two holes left in a thrilling final round, Mickelson was at 15-under par and three shots ahead of 54-hole leader Lee Westwood and hard-charging Anthony Kim, who finished with a 7-under 65 that sent him to the clubhouse clinging to hope Mickelson would falter.
The other contenders were fading away, most notably Tiger Woods, who struggled all day with a shaky swing off the tee and never made a serious push for the lead.
His big highlight was holing out from the seventh fairway for an eagle, and he had another eagle at the 15th, but an inexplicable three-putt bogey from about 6 feet at the 14th likely doomed his chances. He was five strokes behind Mickelson.
Woods wasn't the only one to feel Augusta's bite. Fifty-year-old Fred Couples dumped a shot in the water at the 12th, leading a double-bogey that stifled his bid to become golf's oldest major champion. K.J. Choi looked steadier than anyone until two straight bogeys knocked him from a share of the lead to four shots behind.
Kim started the day seven shots behind before surging up the board, climbing within a shot of the lead with an eagle at 15 and a birdie at 16. After closing with two pars, all he could do was watch Mickelson finish out his round in the last group of the day.
Mickelson started with seven straight pars, his best chance at birdie knocked off line when his putt at the par-5 second struck a pollen pod that fluttered into the line of his ball just before he drew back his club. He didn't notice it until it was too late, and his ball actually hopped into the air and skidded wide of the cup.
Mickelson finally made a birdie at the par-5 eighth, then scrambled mightily to keep his score right where it was. He drove into the trees at both the ninth and 10th holes, but managed to get back in the fairway and pull off nifty wedge shots that set up short par putts.
The birdie at No. 12 — the same spot where he dumped a ball in the water to ruin his hopes a year ago — gave him the outright lead. Another errant drive at the next tee left him with a pine tree in his face. Instead of playing it safe, he swung hard and went right around it, the ball clearing the creek in front of the green and dropping down about 4 feet from the cup.
Mickelson squandered the chance to really give himself some breathing room, missing the eagle putt, but the birdie left him two shots clear of the field for the first time. The lead grew to three when he made a two-putt birdie at the 15th.
Three holes left. A three-shot lead. A third Masters title his to lose.
Choi was trying to give South Korea its second straight major championship. He was 4 under through 12 drama-free holes, pulling into a tie for the lead with Mickelson and looking poised to emulate Y.E. Yang, who rallied to beat Woods on the final day at last year's PGA Championship.
But Choi, after another perfect tee shot at 13, pulled his approach into a bunker left of the green and wound up taking bogey at a hole that most golfers count on to produce at least a birdie. Still rattled by that miscue, Choi bogeyed the next hole as well, allowing Mickelson to pull away.
Westwood started the final round with a one-stroke lead over Mickelson, but a three-putt bogey at No. 9 sent Lefty around the turn with his first outright lead of the tournament. The Englishman lost another crucial stroke to his playing partner when he missed a 4-foot birdie attempt at the 15th, after watching Mickelson tap in for his.
Kim was the hottest golfer on the course, rolling in back-to-back birdies at 13 and 14 before the eagle at 15th. When he knocked his ball over the water and rolled in another putt at 16, the place was rockin'. But he couldn't keep it going on the tough finishing holes, settling for pars that left him at 12-under 276 and gave Mickelson a bit of a comfort zone.
It looked as though the brash 24-year-old will have to wait a little longer for that first major title.
Ditto for Westwood, who has finished third in three major championships and appeared headed for a similar finish at Augusta National.
Couples finished with a 70 for a 279 total, quite a performance by the Champion Tour regular who wears tennis shoes with no socks to help him cope with back pain.
"I finished well and I had a great week," Couples said. "It was a lot of fun."
Nick Watney matched Kim with a 65 to finish at 280.
Copyright AP - Associated Press