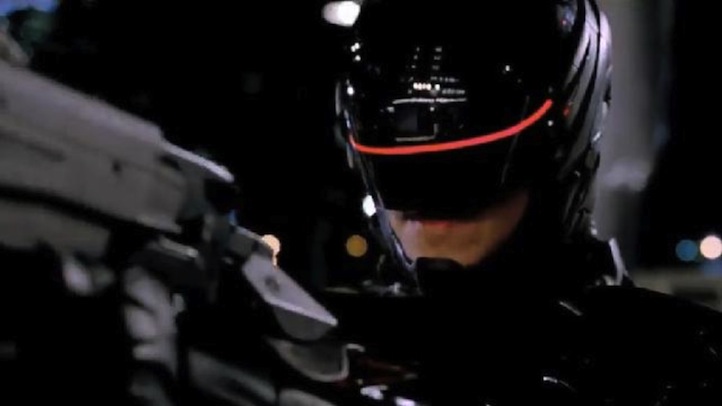 It's always a tough call rebooting beloved movies from decades past. For every gripping "Star Trek" update and Dark Knight tale, there's a "Pink Panther" or "Conan the Barbarian" remake to balance the scales.
Now comes the first trailer for "RoboCop," an update on the bloody 1987 sci-fi action flick of the same name from director Paul Verhoven ("Total Recall," "Basic Instinct") that starred Paul Weller as a fatally-injured police officer who is revived by a shady mega-corporation and rebuilt in the form of a cyborg law enforcer. The original was such a hit it spawned sequels, spin-offs and various video game interpretations.
The reboot stars Joel Kinnaman ("The Killing") as Alex Murphy, the destroyed officer resurrected as RoboCop, with Michael Keaton, Samuel L. Jackson, Gary Oldman and Abbie Cornish along for the revised ride.
Fans of the original flick have already taken to Twitter over the trailer in equal parts celebration and derision. Diehards instantly noted that RoboCop gets a new suit of armor, this time in black. Though the original silver suit is given an early visual nod in the teaser. There's also the inclusion of that famous line from the 1987 version that celebrities like Olivia Munn can't help quoting:
Dead or alive, you're coming with me. #Robocop !!!!! http://t.co/R265qITD0o — oliviamunn (@oliviamunn) September 6, 2013
RoboCop (2014), Would't Buy It For a Dollar http://t.co/QwG7JD72jw — Мишка (@MishkaNYC) September 6, 2013
Audiences will have to wait until until Feb. 7, 2014 to decide for themselves whether the new RoboCop has the armor to withstand criticisms it's too similar to the original or a well-timed update suited to a new generation of action fans already used to the idea of unmanned attack drones and the physical meeting of man and machine.