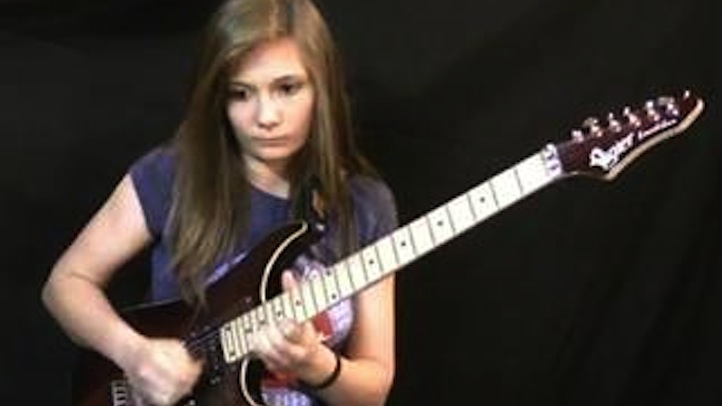 A 14-year-old girl on YouTube named Tina S. has racked up more than 3 million views with her spot-on cover of the Van Halen rock classic "Eruption."
It's not the first time the teen sensation (whose YouTube page states she resides in France) has caused waves in the digital domain. Almost five years ago at the tender age of 10, the apparent prodigy made a minor splash with her dexterous performance of Ferdinando Carulli's "Andante."
But it's her version of "Eruption," which Guitar World ranks second on their 50 best solos list, that has drawn millions of views. The guitar solo was first performed by Eddie Van Halen in 1978 on the band's eponymous debut album, making the song older in years than the girl playing it.
Commenters on YouTube gush over the way Tina plays the classic, with many joking that they're giving up the guitar in the wake of such young talent. "I have been playing the guitar longer than this girl has been a human being and I don't come anywhere near that. I'm going to buy a tambourine..." says Brian Kohler, one of more than 4,600 people who have left messages concerning the video.
"Everyone else go back to guitar hero," writes 943TheSharkRocks. "You have lost the race."
So moved is MrElbarto53 that he proposes a wedding: "When you have 18 y.o, marry me please !! :D"
Ellen DeGeneres was so impressed that she tweeted she wants the internet phenomenon on her daytime show stat.
This girl is incredible. If you know where she is, I want her on my show immediately. ellen.tv/13NbcPe — Ellen DeGeneres (@TheEllenShow) May 23, 2013
No word yet on whether Tina S. will take up DeGeneres' offer, but a message on her YouTube page states that due to the huge amount of comments she is unable to answer all of them, but "For all SERIOUS proposal concerning Tina, please contact her teacher, Renaud Louis-Servais."
Someone get the country calling code for France ASAP!