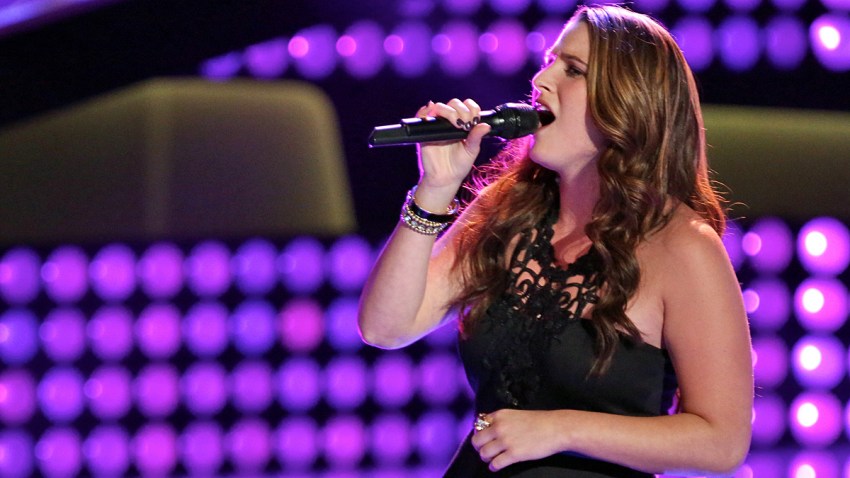 Maybe being the reigning "Voice" champ isn't all it's cracked up to be.
That must have been how Adam Levine felt as the second week of blind auditions wrapped up Tuesday on "The Voice" with a total Team Adam shutout.
The Maroon 5 frontman's pickiness wasn't the only reason he failed to pick up a single team member. One spirited sales pitch he made to one of the night's most sought-after singers fell flat, too.
Adam's long-time coach frenemy Blake Shelton nabbed the first singer of the night, Megan Ruger, a 26-year-old whose rock and roll chops (and hair) belied her career's Nashville country start. The self-professed "rocker at heart" had one goal in mind with her performance of Pink's "Just Like a Pill": "Four chairs!"
Megan didn't turn all four, but the two she did turn — Usher's and Blake's, both as she wrapped up her performance — were plenty. The winner came down, she said, to could claim to love '80s rock more. That, apparently, was Blake. "I just felt the Nashville part of me had to go with Blake," she explained afterward.
Usher picked up the next performer, soft-spoken Tennessean landscaper Morgan Wallen, 20, who had turned his attention to music after an injury dashed his hopes of a college baseball scholarship. His raspy performance of Howie Day's hit "Collide."
His gentle, emotive rasp turned Shakira's chair almost instantly, then Usher's as well — to Shakira's frustration. "I think that there are no voices like your voice on today's radio. That's why I turned," Shakira told Morgan. But he picked Usher as his coach, citing the R&B star's coaching techniques. "He kind of goes about it the way my baseball coach would," the long-time baseball player said.
Shakira found a team member of her own soon thereafter in Emily B., who was still struggling back from a pair of recent emergency brain surgeries. The 33-year-old mom from Idaho tackled Chris Isaak's "Wicked Game," gorgeously conjuring the song's haunted quality with her moody, jazz-inflected voice.
Shakira turned her chair, then Blake and then Usher — but Shakira was clearly the coach most in tune with Emily's performance, and not just because she was standing in her chair and singing along for much of it. Shakira lauded Emily's arrangement, and Emily — whose vocal tone bore similarities to the Latin pop star's — picked her as her coach.
Usher picked up a new, and very gutsy, team member next, albeit one who didn't look like he expected. Stevie Jo, 19, an R&B singer by way of heavy metal (with a stint as a theater kid), took on Usher's very own "There Goes My Baby," and he did it with enough aplomb to encourage Usher to turn his chair and stay poker-faced as he did. Nobody else pushed their buttons.
"What?! That's not who was singing that," Blake exclaimed at the end of the song, as he and the other coaches agreed they hadn't expected to turn around and see the white guy Stevie Jo very much was. Usher hadn't expected it, either, but was triumphant. "I got myself a Texan!" he said.
And the final contestant of the night — another four-chair turner — meant that Blake, his last "Voice" victory two seasons behind him, continued his streak of good fortune when he beat out all his rival coaches for 21-year-old Audra McLaughlin.
It helped that her performance was of a country song — the John Prine song Bonnie Raiit made famous, "Angel From Montgomery" — that Blake had a particularly personal connection to.
Adam may have hit his button long before Blake, but his aggressive push to win Audra for his team and his standing ovation still were no match for Blake's mention that "Angel From Montgomery" was one of his wife Miranda Lambert's favorite songs.
(Neither, for that matter, were Shakira's and Usher's lavish praise for Audra's voice, or Shakira's puzzling decision to refer to herself as "the missing link.")
Audra picked Blake to be her coach, clinching a week of blind auditions redemption for the country star after he seemed all but shut out for some of the most talented vocalists last week.
"The Voice" airs Mondays and Tuesdays at 8/7c.