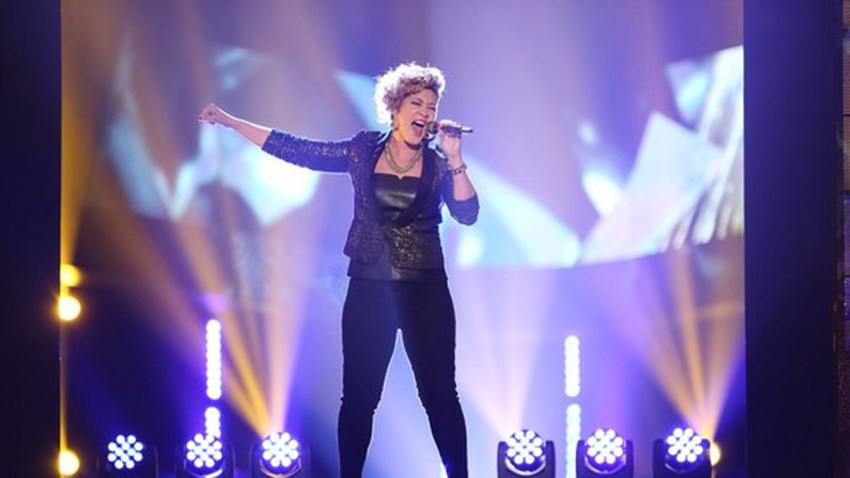 The tried and true, or the unexplored? Two dueling schools of thought reigned at live performances on "The Voice" Monday night, as the coaches sought to push their varied artists into the top 10 and ahead to the next bout in the singing competition.

The dilemma for each coach: Whether to push artists to venture out of their comfort zones, taking bold artistic risks in the hopes of staking out their claims to versatility, or to let artists trade on their strengths, giving the audience what it wanted.

The coaches took different tacks with different artists. CeeLo took the former with his young indie-pop singer Caroline Pennell, whose rollicking take on Avicii's "Wake Me Up," with its wholehearted admission of naivete, was befitting of the young ingenue even as it pushed her into uncharted uptempo territory. The coaches praised the uptempo tune, as well as her voice's "purity."

Christina likewise pushed Josh Logan to branch out past his usual technically complex rock fare with a song she hoped would show a softer side and connect with the audience: Michael Jackson's "Man in the Mirror." The other coaches praised the low-key rendition, and Blake said the song had given his talents a newfound chance to shine.

Adam took a similar tack with his operatic-voiced geek James Wolpert, whom he assigned the Killers' hit "Mr. Brightside," warning him to be careful with the rapid-fire rock anthem's big high note. Christina admitted after James performed that she had been nervous about the tough song but said he'd nailed its high note, while Adam's praise was more effusive.

"You just turned into a rock star before our very eyes," James' proud coach said, admitting that the comment sounded trite and also lauding what he called "the most dynamic, yet controlled and blistering performance" yet from a singer who had last made a big impression with a Joni Mitchell cover.

Blake Shelton's tactic for his team's Austin Jenckes, next up on stage, was not so much to push him in a new direction was to seal him a new fan base -- a country one, unsurprisingly. He tasked Austin with the Travis Tritt song "It's a Great Day to Be Alive," hoping that with it Austin would win over the country-loving voting bloc.

After Austin finished performing the number, playing his dad's guitar, Blake said he thought he had, and the other coaches gave Austi credit for emotional believeability.

Next, perhaps the competition's most formidable young diva, Christina's 16-year-old protegee Jacquie Lee, was given the task of tackling U2's brooding "Love Is Blindness," injecting it with her trademark bluesy wail and also some dark melodrama.

The teen obliged onstage, right down to the somber opening and the petulant belt she built into. Adam praised the way she opened the song up, and CeeLo admitted he'd gotten lost in the experience of enjoying the music.

A competitor with a very different sort of bluesy spirit, Team Blake's "swamp-pop" dad Ray Boudreaux was up next, and his challenge was to tackle a kind of song he had never performed on the show before either -- in his case, a love song. That, Blake said, might be what it would take for Ray to connect with an audience.

To do so, Ray performed John Legend's tender "All of Me." Afterward, Blake praised the feeling he'd put into the number, and the coaches joked about how sexy Ray's coach had found him -- though Christina reserved a moment for some criticism of what she said were some of Ray's pitch and vocal control issues.

But if Blake's tactic for helping out a singer he'd had to save last week from the bottom three was to assign him a brand new task, CeeLo's tactic for doing the same for Kat Robichaud was to let her stick with what he knew she did best: growling her way through full-throated, full-bore rock songs.

And that she did on Awolnation's "Sail," unleashing the ferocity that had wowed the coaches even at the blind auditions -- and that they had craved when she had given a relatively low-key performance last week. After she finished singing, they praised her energy and lion-like mien, plus her brief crowd-surfing trick.

Next up was another member of Team CeeLo, Jonny Gray, the long-haired military vet whom CeeLo tasked with applying his trademark "Americana grunge" sound to the Phil Collins song "Another Day in Paradise."

After he finished, CeeLo remarked that he was eager for the future and to see Jonny perform his own songs. Adam praised Jonny's performance, even as he noted some rhythm issues at times, which he blamed on the audience's clapping at the wrong times and throwing the singer off. But he and the other coaches praised Jonny's spirit and commitment as a performer.

Team Adam's Jamaican no-longer-just-a-backup-singer powerhouse Tessanne Chin was up next, covering a song Adam was confident she could imbue with a depth of emotion to match her vocal chops: Emeli Sande's "My Kind of Love."

She fulfilled her coach's expectations onstage, and even the tough-to-impress Christina remarked that Tessanne hadn't held back any emotion and seemed able to do anything.

The final singer of the night was Team Christina's own powerhouse Matthew Schuler, an indie singer tasked with singing the often-overdone Leonard Cohen staple "Hallelujah." Striking the right balance on the tender but vocally demanding song would be tough for Matthew, given his predilection for driving indie rock, but Christina was confident he could handle it coming off of his impressive demolish of Miley Cyrus' "Wrecking Ball" last week.

He could, as it turned out. Matthew departed from both the familiar Cohen and Jeff Buckley versions of the tune, and with his emotive rendition, he won over even Adam, who admitted he was very defensive of the song, and Blake, who said Matthew seemed Team Christina's strongest member this week.
Next came Team Blake's other bearded gravelly-voiced team member, Cole Vosbury, who tackled an unlikely number: Miguel's R&B hit "Adorn." It was a tall order, but it was the one the coaches praised widely. Not that Cole's ability to tackle a range of genres was any surprise to them -- he had auditioned with a cover of the theme song from "The Jeffersons."
Closing out the night was Will Champlin, whom Adam assigned to sing Dragons' "Demons" in the hopes of preventing the mild-mannered indie-rock pianist -- perhaps the show's comeback kid, given his two steals (to and from Team Adam) and his save last week from the bottom three -- from potentially getting eliminated Tuesday.
Will approached the song with candor and warmth, and they showed through in his confident, passionate, high-stakes performance, praised by the coaches.
Whether the cover will prove enough to keep him around on "The Voice" for another week, though, will be determined Tuesday at the live eliminations.

"The Voice" airs Mondays at 8/7c and Tuesdays at 9/8c on NBC.