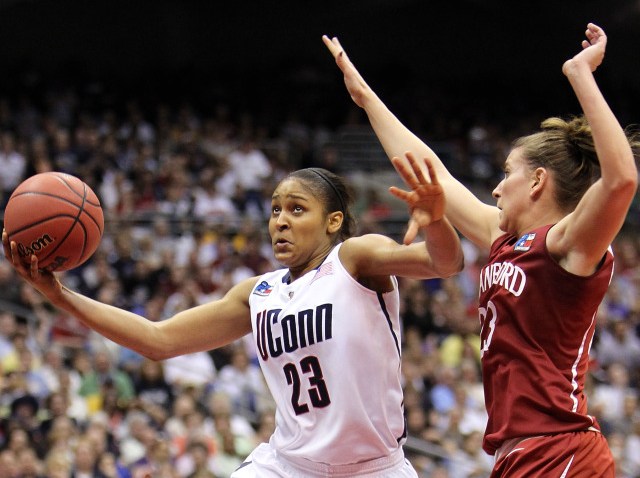 It wasn't pretty. But it was perfect.
The University of Connecticut women's basketball team made history in a big way Tuesday night, capturing the national championship and capping two perfect seasons of play in a game that saw UConn trail 20-12 at the break after an ugly first half.
The Huskies tied their lowest-ever halftime score in the championship game against the Stanford Cardinal, which took its eight-point lead into the locker room with hopes of breaking UConn's record 78-game win streak and taking home the title for themselves.
But UConn star Maya Moore would have no part of it -- the junior went on a lightning shooting spree in the second half to ignite a 17-2 UConn run and bring home the club's seventh title in 15 years, all under coach Geno Auriemma, 7-0 in tournament play.
Moore, held to only 5 points in the first 12 minutes of play, ended up with 23 points and Most Valuable Player honors in the game, which also featured a brilliant defensive performance by AP Player of the Year Tina Charles.
Charles, who had six blocks in the second half, and fellow senior Kalana Greene will exit the team this year. Charles is expected to be the top pick in this year's WNBA draft.
UConn guards Caroline Doty, Kelly Faris and Tiffany Hayes also lit up in the second half, as Doty hit two key threes late in play to push UConn's lead to double digits and ignite Husky fans in the San Antonio Alamodome.
Neither Doty, Faris, nor Hayes has ever lost in a Huskies uniform.
Stanford's senior center and All-America Jayne Appel went down with an injury midway through the second half, all but ending Stanford's hopes at the upset over the untouchable Huskies.
The other Stanford star, Nnemkadi Ogwumike, was held to 11 points and stifled in the second half by the Huskies' notorious pressure defense.
UConn's 78-game streak is matched only in college basketball by the UCLA Bruins men's team, which won 88 games under John Wooden.
The Huskies will attempt to break that record next season.