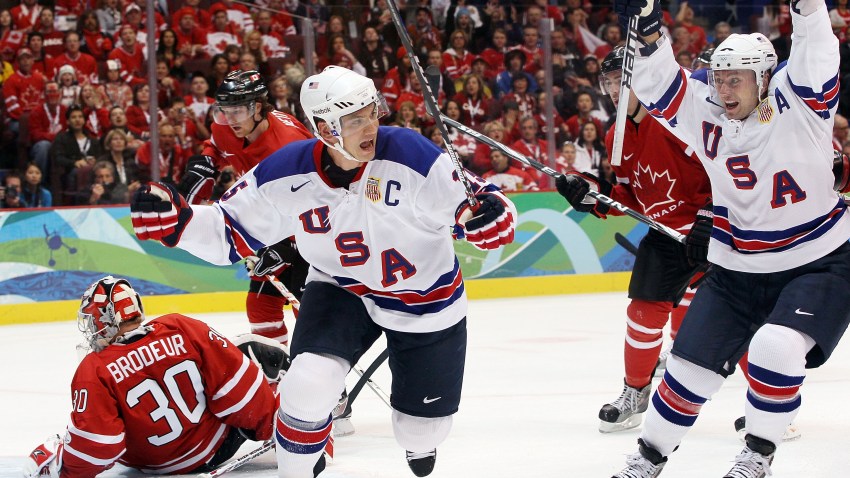 D'oh Canada!
Team U.S.A. pulled off its biggest Olympic hockey upset since the "Miracle on Ice," stunning Canada 5-3 in the host country's signature sport on Sunday to advance to the quarterfinals.
Brian Rafalski scored two goals and set up another for the U.S. as goalie Ryan Miller held off a flurry of shots one day short of the 30th anniversary of America's greatest hockey victory — the unfathomable win over the Soviet Union at the 1980 Lake Placid Games.
Canada outshot the United States 45-22 yet couldn't badly dent Miller, the goalie the Americans felt could best stand up to all of Canada's stars. He did, too, making 42 saves in the victory of a lifetime.
Later, Sweden beat Finland 3-0 in a rematch of the Turin Games final to conclude hockey's Super Sunday in Vancouver.
The result means the United States unexpectedly earned the top seeding going into Wednesday's quarterfinals thanks to a better goal differential than Sweden, which also was undefeated in regulation in group play.
The stunning men's hockey upset capped another banner day for Team U.S.A. after Apolo Anton Ohno skated into history Saturday by collecting the most individual medals ever by a Winter Olympian.
Ski star Bode Miller finally fulfilled his expectations and won his first Olympic gold medal, using a blistering slalom run Sunday to complete a super-combined victory.
Miller skied one of the fastest slalom legs for a two-run combined time of 2 minutes, 44.92 seconds.
Miller has also won a silver and a bronze at the Vancouver Games — a sharp contrast from his no-medal disaster in Turin four years ago, when he made more headlines for his late-night partying than his skiing.
In ice dancing, Canada regained some glory late Sunday as Tessa Virtue and Scott Moir won the original dance portion of competition with a sultry, fiery flamenco number.
Virtue and Moir, medalists at the last two world championships, scored 68.41 points to edge Americans Meryl Davis and Charlie White. With 111.15 points overall, Virtue and Moir lead Davis and White -- their training partners -- by 2.60 points going into Monday night's free dance. Russian reigning world champions Oksana Domnina and Maksim Shabalin -- the focus of negative attention this week for dressing up in gaudy aboriginal-themed costumes for their routine -- dropped to third.
Still, the U.S.-Canada hockey showdown was one the most anticipated events in Vancouver on Day 10, with the sport more than a way of life in maple leaf country. Early estimates were that half of Canada's 33 million people planned to watch. And the game didn't disappoint on drama.
Players from 10 NHL teams participated in the match on both sides of the ice: the Chicago Blackhawks' Patrick Kane squared off against teammates Duncan Keith, Brent Seabrook and Jonathan Toews, all of whom are playing for Canada. NHL darling Sidney Crosby of the Pittsburgh Penguins also joined America's neighbors to the north.
While it was only a preliminary round game, fans wearing Canada's distinctive red maple-leaf jerseys lined up for hours outside Canada Hockey Place waiting to be admitted. They were loud and raucous most of the game but, after Kesler scored, the building was eerily silent.
Emotions were in play for the United States, too, with the Miracle on Ice anniversary. The Americans took a page out of 1960, too, by wearing uniforms nearly identical to those of the gold-medal winning team at the Squaw Valley Games.
Chris Drury and Jamie Langenbrunner scored Sunday to put the United States up 4-2 and hold off a relentless late surge by Canada that included Sidney Crosby's power play goal with 3:09 remaining.
Miller made an exceptional save on Rick Nash's shot from the slot with two minutes left to preserve it, and Ryan Kesler put it away by scoring with 45 seconds remaining.
Rafalski, Langenbrunner and Drury are three of the older, steadying hands on one of the youngest U.S. Olympic teams in history, one that averages 5 years younger per man than the 2006 team that didn't medal in Turin.
Canada, the gold medal favorite, was expected to coast into the medal round but now, after nearly losing to Switzerland and being outplayed on home ice by the Americans, must win a play-in game Tuesday to reach the quarterfinals. The Canadians still have a chance to win a gold medal, but now face a much tougher road that would include an additional game.
The rivalry on the ice between the U.S. and Canada kicked off Sunday afternoon, as Canada's undefeated women's curling team beat the U.S. 9-2 in session 8.
The men's curling team didn't fair much better as David Murdoch's world champion British team beat the U.S. 4-2, all but ending the American run in the competition.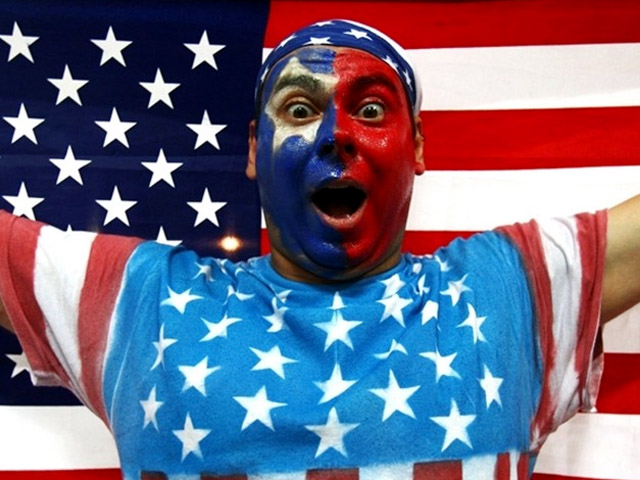 The Vancouver Winter Games are here and Team USA is rocking.
Check out our full coverage.
Vote for your favorite photo.
Copyright AP - Associated Press