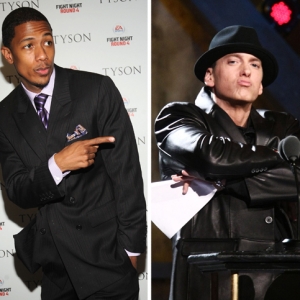 Nick Cannon has taken aim at Eminem after the rapper referenced his wife, Mariah Carey, in a new song.
Eminem's song "Bagpipes from Baghdad," off his May 19 due record, "Relapse," in part, appears to be dedicated to Mariah. Lyrics in the song directed toward Mariah include — "Why did we have to break up/All that I asked for was a glass of punch," and "I want another crack at ya."
VIEW THE PHOTOS: Mariah Carey: From 'Dreamlover' To 'Heartbreaker'
Eminem also suggests Mariah and Nick should split in the song's lyrics saying, "Nick, you've had your fun/I've come to kick you in your sack of junk/Man, I could use a fresh batch of blood."
And on Friday, Nick responded to the track — which at first he thought was old Eminem material — on his official blog.
VIEW THE PHOTOS: Guess Who's Back? Hot Shots Of Eminem!
"I felt sorry for him because he must really be stuck in the past. Not only has his music not evolved, but also homeboy is still obsessed with my wife, the same female that wouldn't let him get to second base from 8 years ago," Nick wrote. "What type of grown a** man lies about getting with a chick? Only Slim Lamey! LOL!"
But Eminem went too far with the tune, according to the new "America's Got Talent" host.
"As I further examine the track, I hear dude cross the line. He begins to call my wife out of her name! Now as y'all know, I don't take that type of nonsense lightly," he wrote. "I know it's only entertainment and I'm all for freedom of speech. But I'm from the school of thought where if you are tough enough to talk s***, you got to be tough enough to deal with the consequences that come with tough guy s*** talking!"
VIEW THE PHOTOS: Hottest Hip-Hop Stars!
Nick wrote that he considered taking it to an "8 Mile" style rap battle, but changed his mind.
"Am I going to battle Eminem and try to out rap him? No, that would be stupid," Nick wrote. "The dude is nice on the mic. Even though nowadays he lacks substance, rapping about when he used to be hot. Like when Al Bundy gloats about his High school football prime."
And he also decided not to challenge the blond star to a physical altercation.
"A guy like that doesn't really need another a** whoopin, he needs a hug," Nick wrote. "We should really pray for his troubled heart."
But Nick wrote that he is ready to defend Mariah's honor, having decided that the song is an attack on Mariah's reputation.
"I realized, that this so-called man has just disrespected and slanderized (sic) one of the world's most significantly influential artists, one of the most notable BLACK females of our time, the incredibly cherished, globally loved and world-embraced woman of color, Mariah Carey." Nick wrote.
"You sold your little records and made a little bit of change but now you are stepping in the wrong territory. You may have been able to rape and pillage our artform (sic) like an old school Caucasian con man and nobody said anything because we respected your talent, but now you've made the ultimate mistake," he continued. "Don't you know that the black woman is the foundation and the strongest force in our culture? Take notes homey, Elvis would have never disrespected Aretha Franklin or Diana Ross. You were supposed to just do your little song and dance, make your little racist money and call it a day. But no, you had to dishonor the black man's most precious counterpart."
As a result, Nick has asked Eminem to meet with him for a man to man talk.
"I'm putting this out there now. Marshall Mathers, you need to holler at me on some grown man [s***]. Man to man, let's meet up and deal with this like adults," he wrote.
Related Content from AccessHollywood.com:
PLAY IT NOW: Mariah Carey & Nick Cannon Celebrate First Anniversary In Las Vegas (May 1, 2009)
PLAY IT NOW: Access Archives: Nick Cannon

MORE ACCESS ON THESE TOPICS: Eminem - Mariah Carey - TV One

Copyright NBCAH - Access Hollywood