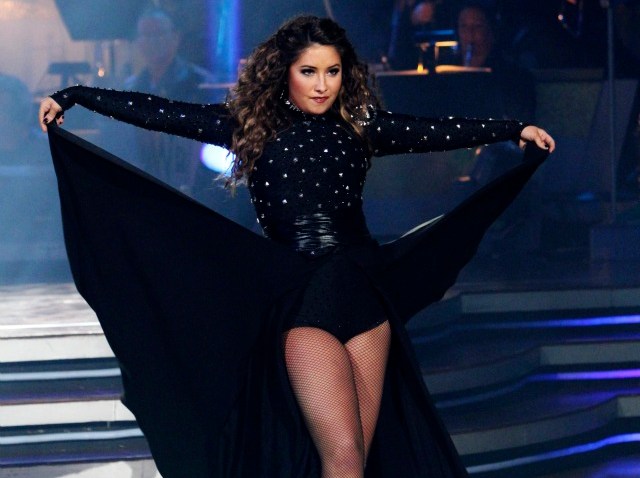 Monday night's "Dancing With the Stars" finals gave the remaining three celebrity contenders a shot a redemption, but really, only one of them needed it.
As anyone who's followed the ballroom action this season knows, Bristol Palin's best dance floor efforts have often left much to be desired. Sure, she's made plenty of headlines during the competition, but few of those have focused on her perfect moves, graceful lines or well-timed steps.
Hey, it's hard to focus on what isn't there.
U.S. & World
So when Palin and her accomplished competition were offered a chance to make up for their respective weakest performances with a redemption dance, it was a welcome opportunity for the woman whose most memorable moves so far involved an ape suit.
Unfortunately, it was an opportunity wasted.
As expected, the dance Palin and partner Mark Ballas gave the makeover treatment to was their notorious jive. The ape outfits didn't take center stage this time, nor did any major improvements.
While Palin remembered the steps, she seemed to perform them all in slow, lead-footed fashion. For what should have been a jumping jive, she lacked energy throughout the routine — with one notable exception. Palin frequently employed her go-to distraction move of the season, the shoulder shimmy.
The jive 2.0 was far from the teen-mom-turned-teen-activist's best effort. If anything, when viewed side-by-side with the second chance performances from Kyle Massey and front-runner Jennifer Grey, the redemption dance just reinforced the fact that Palin is out of her ballroom depth.
It's a shame the judges failed to notice that fact.
Rather than issuing some well-placed tough talk, head judge Len Goodman and his fellow panelists praised Palin's first performance of the night and gave her a matching set of 9s for the flat footwork.
That put Palin just three points behind Grey, who earned perfect marks for her classic paso doble, and it tied her with Massey, whose foxtrot was without a doubt the better dance.
The moves mixed for the freestyle round, with lifts, tricks and worms (Go, Kyle!) taking over the dance floor, but Palin still underperformed. Except the second time around, the judges took note.
Not much note, mind you. After a lackluster rendition of the "Cell Block Tango" from "Chicago," Palin received soft criticism and landed two 8s to go with one very generous 9.
By the end of the night, nothing had changed in the ballroom standings. Grey remained at the top of the leaderboard after another perfect performance. Massey was still the man in the middle of the action after slightly improving his overall score. And Palin? Back of the pack.
Never has the first night of the "Dancing" finals come to such a predictable end, and yet leave such a question mark about the would-be winner.
If dance dictates the results, it's Grey's mirror ball trophy to lose. If it's all about charisma, Massey's the man for that. If it makes no sense at all, it's Palin's.
Ree Hines wants closure on this crazy season. Follow @ReeHines on Twitter and tell her what you're hoping for on finale night.
Copyright MSNBC - MSNBC