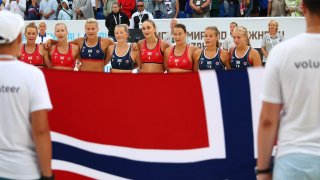 The Norwegian women's beach handball team has been fined for refusing to play in bikini bottoms during a game in the sport's Euro 2021 tournament.
The team wore thigh-length elastic shorts during their bronze medal match against Spain in Bulgaria on Sunday to protest against the regulation bikini-bottom design that the sport's Norwegian federation president called "embarrassing."
Download our app for iOS or Android to get the latest forecasts on the hurricane season— and sign up for alerts.
The team was fined 1,500 euros total ($1,700) for "improper clothing," according to a statement from the European Handball Association's Disciplinary Commission.