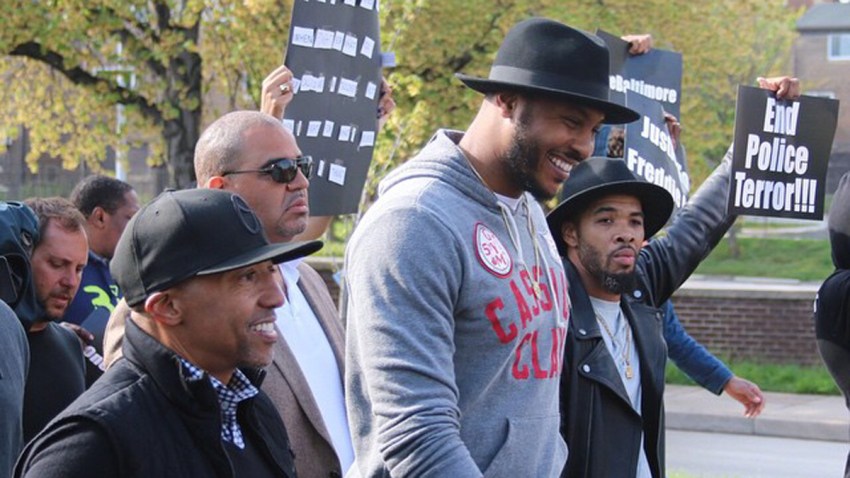 Knicks star player and longtime Baltimore resident Carmelo Anthony took part in a Freddie Gray protest in the Charm City on Thursday, according to reports.
Anthony wore a "Cassius Clay" shirt as he marched with other protesters, urging calm and patience after violence broke out in the city earlier this week following the death of Gray, a man who died from spinal injuries while in police custody on April 19, Newsday reported.
"This is my community," Anthony told CNN's Ryan Young. "But it's not also my community, it's everybody's community. It's America's community."
Anthony said he came to talk with people and urge them to focus on rebuilding the city in the wake of looting and arrests.
"We're going to get the justice that we want," he said. "It's going to take some time."
Anthony sounded off in an Instagram post on Monday, urging protesters to "build up our city not tear it down."
Following Gray's funeral Monday, dozens of police officers were attacked while stores were looted and several buildings set ablaze. Maryland Gov. Larry Hogan issued a State of Emergency in the height of the violence Monday evening and the National Guard was called in to restore order.
"To see my city in a State of Emergency is just shocking. We need to protect our city, not destroy it," Anthony wrote in the Instagram post.
In the post, Anthony said he thinks the protesters should fight for what they believe in but added, "it takes no time to destroy something. But, it can take forever to build it back up."
"If not yourself, then Think about the youth. How this will impact them. Let's build our city up not tear it down," he said.
Anthony was born in Brooklyn but moved to Baltimore when he was 8 years old. He was one of the region's top high school players before playing his senior year at the basketball powerhouse Oak Hill Academy in southwest Virginia.