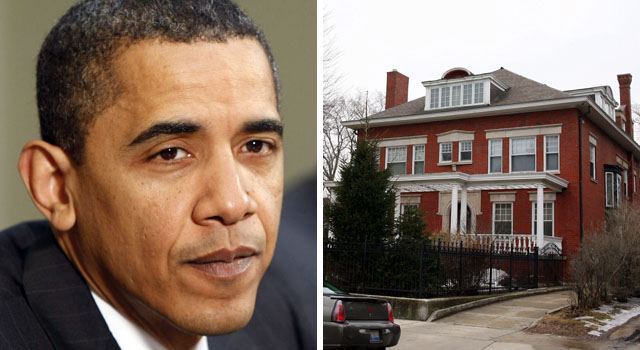 A few years ago, a second-rate rap group named Three Six Mafia shocked Academy Award viewers when they won an Oscar -- an event that caused host Jon Stewart to utter the immortal line, "To recap, Three 6 Mafia: 1 Martin Scorsese: 0" (Scorsese finally won an Oscar the year after). The song which rewarded 3-6-M? "It's Hard Out Here For A Pimp."
Well, it's kinda hard out here for a president too. Seriously.
Aside from the usual political hits that he has to take from both Republicans and Democrats, there's the intrusive media. In just the last few weeks, there's been the obsessiveness over what kind of puppy the president will get for his daughters -- finally revealed this week: It's a Portuguese Water Dog named Bo, a gift from Ted Kennedy.
Then, there's the question of what church they will choose as their permanent house of worship. On Easter, they visited the famous St. John's Episcopal Church across from the White House. The search continues for a full-time church -- with the whole world watching.
But, while becoming president can lead to untold riches down the road, in the short-term it can force a first family into taking a hit in the wallet that ordinary Americans might be able to avoid. For example, refinancing their house in Chicago. As the Tribune points out, their mortgage is a bit more expensive than current rates:
Back in Chicago, they have a mortgage locked in at 5.625 percent, compared with the current national average of about 4.87 for a standard home loan.

The Obama loan, however, is what bankers call a "super jumbo," which is larger and often harder to finance in today's market conditions. At the time they received the loan, the average for similar-size mortgages was estimated in the range of 5.93 percent to 6 percent, according to news reports.
Sure, the POTUS has book royalties money flowing in -- including a brand new deal on a children's version of Dreams For My Father -- and he'll probably be an even greater celebrity than Bill Clinton at the end of his term. Still, there are no sure things -- and no one knows exactly when "the end of his term" will be. 2012? or 2016? Saving every little bit now isn't a bad thing.
Except the president of the United States renegotiating his mortgage does look a little chintzy -- besides bringing up a few too many reminders of that funky Tony Rezko-connected deal that helped him buy the house in the first place.
Hmm, I got it! How about renting out a few rooms to cover costs while the family is living in DC?
Nah, the Secret Service would never go for it.
See, it is hard out here for a POTUS!
Robert A. George is a New York writer. He blogs at Ragged Thots.
Copyright FREEL - NBC Local Media