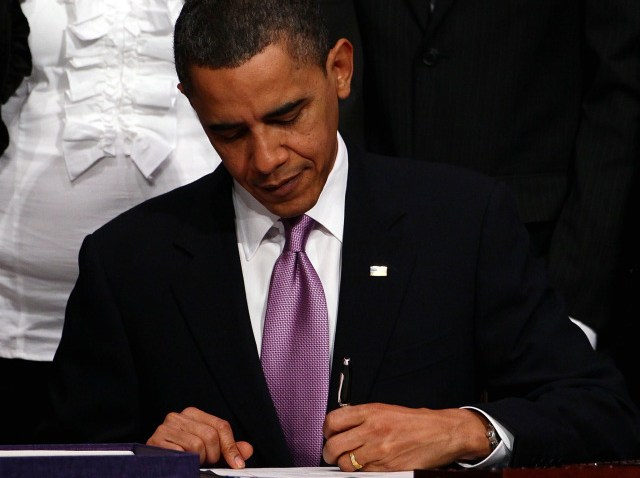 President Barack Obama formally rejected congressional Republicans' efforts to force construction of the Keystone XL oil pipeline, the third veto of his presidency and reportedly the likely start of a wave of vetoes as he approaches the end of his second term.
Prior to notifying the Senate of his Keystone veto Tuesday afternoon, Obama used the power of his pen just two times in his six years in the White House. That matched the number of vetoes made by George Washington.
Obama's first veto — a rejection of a stopgap spending bill meant to keep the Defense Department funded — was described as a technicality by White House officials when it occurred in December 2009. The move was null, however, as Congress approved the defense spending bill before the previous budget expired.
The second time around, Obama withheld his signature — a pocket veto — in October 2010 from legislation that would have made notarizations completed in one state more easily recognized in other states. His office cited possible unintended consequences as the reason for his veto. Consumer advocates said the bill, if passed, would make it easier for major mortgage lenders to rush through the foreclosure process.
"The presidential power to veto legislation is one I take seriously," Obama said in a message that accompanied his Keystone veto on Tuesday. "But I also take seriously my responsibility to the American people."
Obama has said that his administration is still considering the project to pipe oil from Canada's tar sands to Gulf Coast refineries, though he rejected attempts by lawmakers to force its approval.
The New York Times reported that Obama's move could kickstart a flurry of vetoes from the 44th president as he wraps up his final two years in office.
He would only need nine more to match his predecessor, George W. Bush. However it is unlikely he will swipe his pen enough to match record-holder Franklin D. Roosevelt. FDR vetoed 635 bills during his 12-year presidency. Grover Cleveland has the next highest number of vetoes, 414 measures nixed during two non-consecutive terms in the White House.
Check out how Obama has fared compared to his predecessors. Scroll over for more info on past presidents: