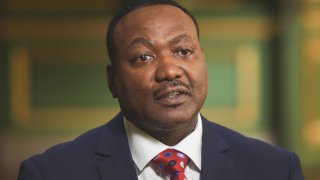 In the chaotic minutes before he shot and killed Ashli Babbitt during the Capitol riot on Jan. 6, Lt. Michael Byrd focused his attention on the glass doors leading into the lobby of the U.S. House of Representatives chamber.
About 60 to 80 House members and staffers were holed up inside, and it was Byrd's job to protect them.
Download our app for iOS or Android to get the latest forecasts on the hurricane season— and sign up for alerts.
As rioters rampaged through the Capitol, Byrd and a few other officers from the Capitol Police set up a wall of furniture outside the doors.
"Once we barricaded the doors, we were essentially trapped where we were," Byrd said in an exclusive interview with NBC News' Lester Holt, speaking publicly for the first time since the riot. "There was no way to retreat. No other way to get out."
Read the full story at NBCNews.com