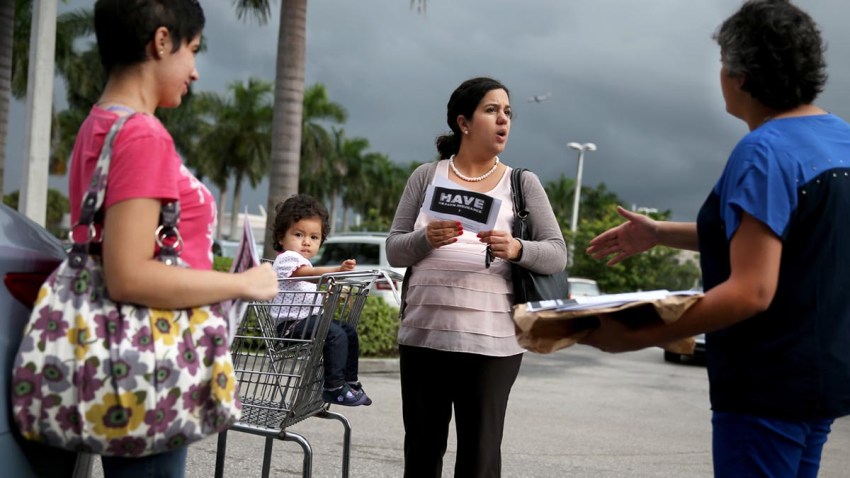 The Obama administration's campaign to encourage participation in its new health care reform effort — which will soon begin enrolling people in online insurance marketplaces — has yet to change many minds.
Only half of Americans say they have enough information about the Affordable Care Act to know how it will affect them, a number that hasn't moved much in the three years since the controversial measure was passed by Congress, according to the latest Kaiser Health Tracking Poll.
In fact, 44 percent still don't realize that the ACA is the law.
U.S. & World
Those figures show how much work Obama and his advocates have to do to make sure the massive project succeeds.
The president has barnstormed the country, begun a multimillion dollar ad campaign and awarded grants to non-profits for help signing people up for the online exchanges. He says that support will climb once people realize how the new system helps them.
He also acknowledges that the transition won't be without glitches. Building the exchanges, which differ from state to state, is simply too complex to expect an errorless performance.
But with the country sharply divided on the law — 37 percent of Americans say they have a favorable view of it, and 42 percent say they don't — and many people fearing their costs will rise, Obama has to make sure that the new system, which goes into effect Jan. 1, doesn't suffer a wave of negative early reviews, analysts say.
Obama hopes to enroll 7 million uninsured Americans in the first year. Anything less could be considered a defeat -— and energize his Republican opponents, who are seeking to make the law an issue in the 2014 mid-term elections. Many right-wing Republicans want to shut down the federal government in order to stop the law from going into full effect. Many states have refused to set up their own exchanges (leaving it to the federal government to do it), and about half have resisted a provision that calls for the expansion of Medicaid. Those resisting the law include Texas and Florida, which have some of the highest populations of uninsured.
That said, Obama can point to some encouraging developments. California, the state with the largest number of uninsured, has embraced the law, investing many millions of dollars into its enrollment efforts. A handful of states with Republican governors have signed on to the Medicaid expansion. Four are still debating what to do.
The president has enlisted administration officials and political allies in an effort to build enthusiasm for the new system. The biggest name is former President Bill Clinton, who helped get the law passed in Congress.
In a speech in his home state of Arkansas in early September, Clinton argued that the reforms were necessary for America to compete in a global economy.
"We're going to do better working together and learning together than we will trying over and over again to repeal the law or rooting for reform to fail," Clinton said.