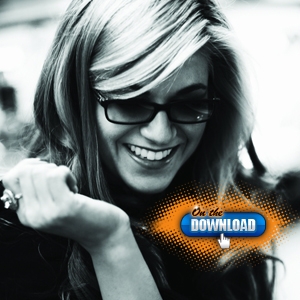 With a name like Melody, a jazz singer should have quite the voice – and on her polished sophomore album, Melody Gardot doesn't disappoint. "My One And Only Thrill" released this week on Verve, offers a set of original songs written by the 23-year-old artist herself, a new set of jazz standards for the modern era.
Clear as crystal, Melody's voice has just enough sultry soul to carry faster songs such as "If The Stars Were Mine" or a bossa nova version of the album's only cover, "Somewhere Over The Rainbow." But she shines on the slower songs, where her shy vibrato has room to breath. The album's best moments are string-laden ballads such as opening track "Baby I'm A Fool" and "Lover Undercover," tunes that recall the mellow, late-night tenderness of Frank Sinatra circa "September of My Years." Despite her relative youth, her lyrics are no odes to puppy love. "Why do you want to leave when it's so easy just to stay," she sings in the yearning "Lover Undercover," which finishes with a simple bedroom instruction – "My demands are small / make me a lover / under cover / or don't ever love me at all."
VIEW THE PHOTOS: Hot Shots Of More 'On The Download' Artists
"Thrill" is all the more impressive given its difficult origins. In college, Melody was hit by a car while riding her bicycle, leaving her hospitalized for months – even now, she has difficulty performing and requires a cane to walk. But the album sounds no less vital for its performer's fragility — indeed, on record, Melody does nothing but soar.
Related Content from AccessHollywood.com:
VIEW THE PHOTOS: Hollywood Blondes
PLAY IT NOW: On The Download: Melody Gardot - 'Baby I'm A Fool'
PLAY IT NOW: On The Download: Jenny Owen Youngs - 'First Person'

MORE ACCESS ON THESE TOPICS: On The Download - Music - Pop

Copyright NBCAH - Access Hollywood